One of my most admired local friends retired last fall from her 50 year career working for and running an amazing museum of global artifacts and colonial living history program. Soon after retiring, she realized that there were parts of her life she did not want to leave behind. As a result, she started up her own early morning (7:30AM) "Free Fresh Donut Tuesday" program and now finds herself and her own kitchen crowded with eager, hungry admirers each week. Her community of followers smoothly followed her into her "retirement," and she happily focuses on letting no visitor leave either hungry or without a brown bag of gifts for others and a cheerful dose of positive community.
Several weeks ago, when I visited to share in the rich flavors of her cooking (she regularly uses a white oak donut hook that I made for her) I realized that while I have turned many kinds of otherwise eatables – apples, pears, eggs, grapes – and in real time even potatoes to make potato-fries, I had never tried to turn a donut. Turning to the Internet, I discovered that a number of folks had been turning donuts with some success, but all of the methods that I found seemed unnecessarily complicated. This led me, of course, to figure out how I might simplify the process and turn up a half-dozen or so to take in a brown paper bag to my next Tuesday morning visit.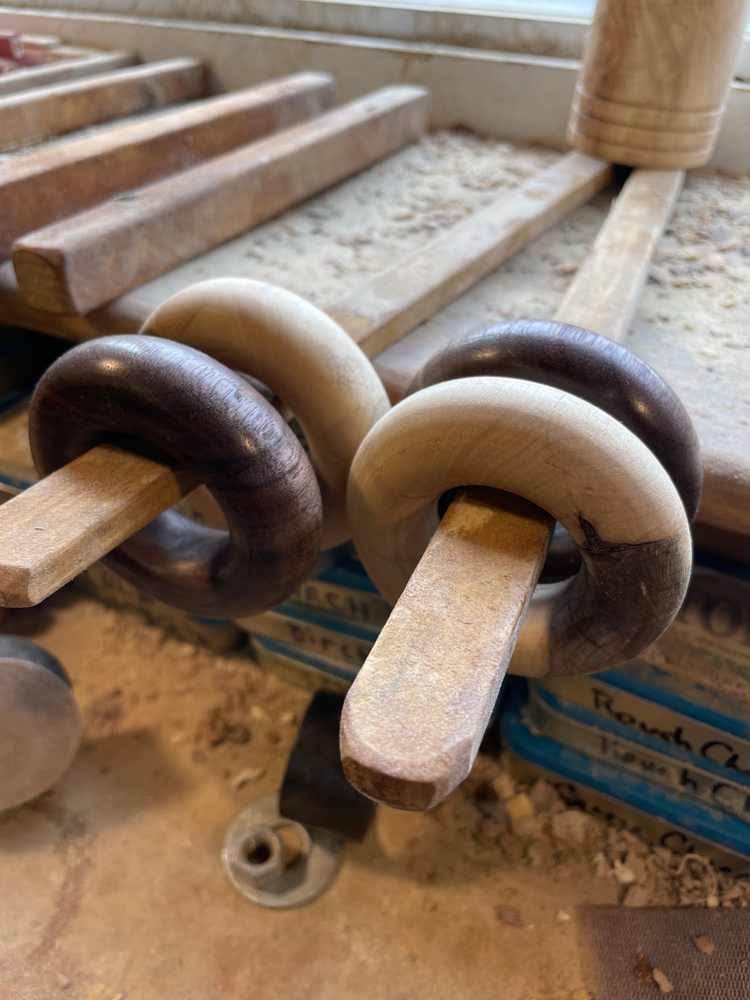 Choosing my wood from the firewood stack, I milled a small piece of black cherry scrap to a 3" cube, mounted it between centers to round, rounded it, and created a tenon.
Remounting the blank on a 4-jaw chuck using the new tenon and purposefully bringing up the tailstock to mark the out-side center creates a secure work-platform while allowing me to safely sculpt the new donut by eye and hand with the 8 mm (~3/8") finger-nail grind spindle gouge.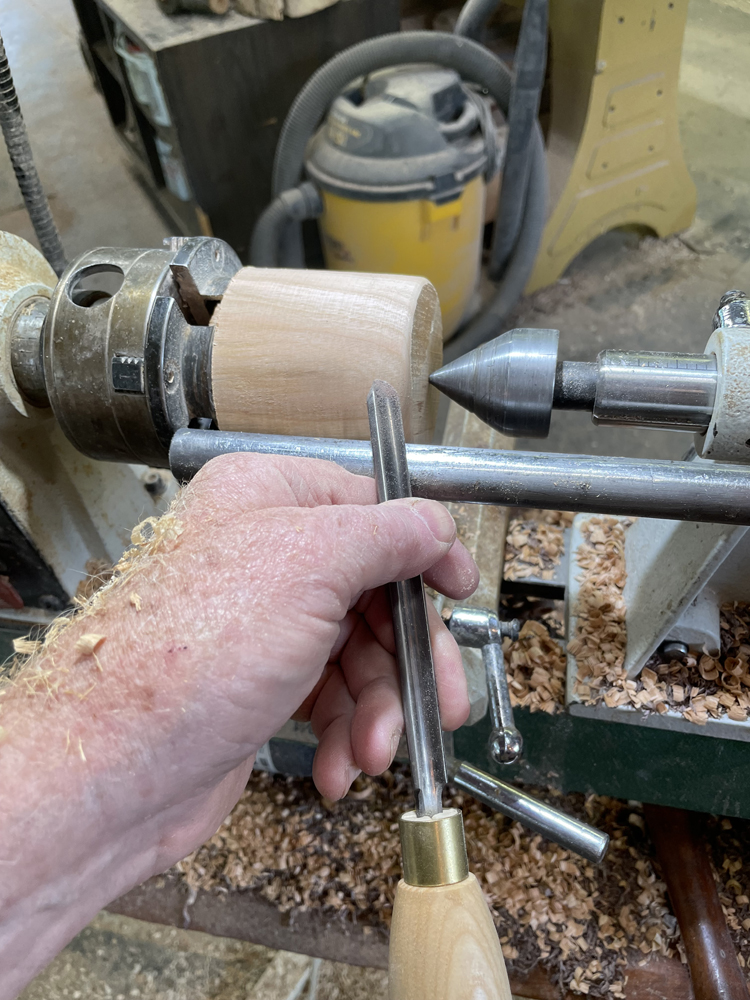 As spindle-turners know, that small finger-nail ground gouge can move significant quantities of wood quickly and efficiently while leaving a smooth surface, especially when undercutting to open up the donut's hole.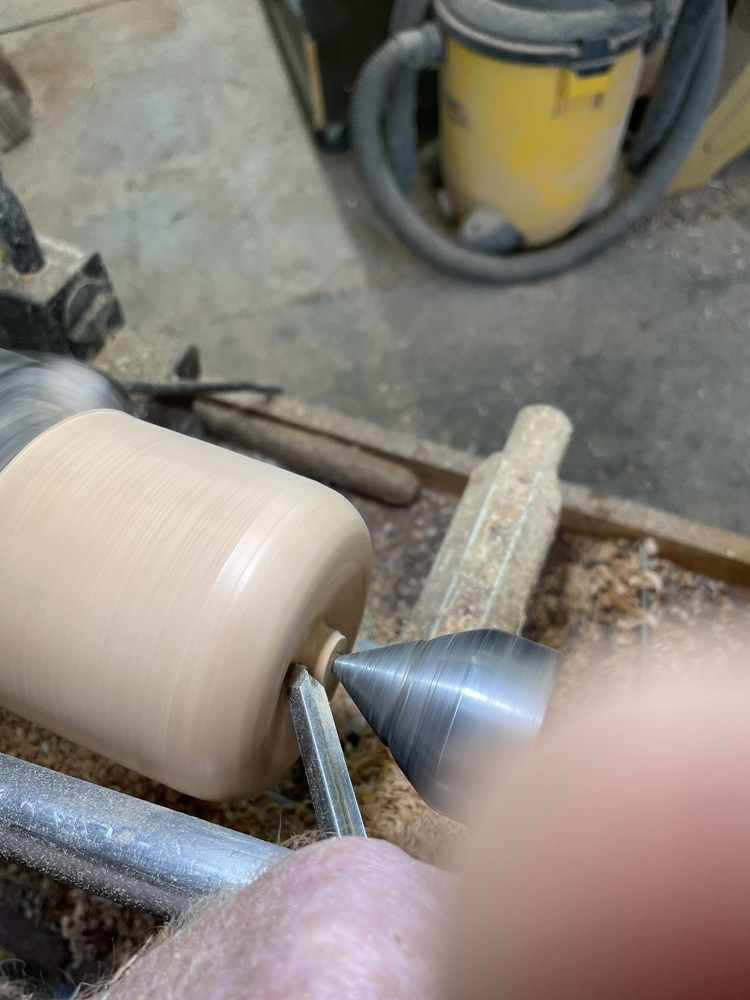 Similarly, rolling the gouge from the center to round the other side of the donut is an opportunity to round the blank fully to a realistic, mouth-watering fullness.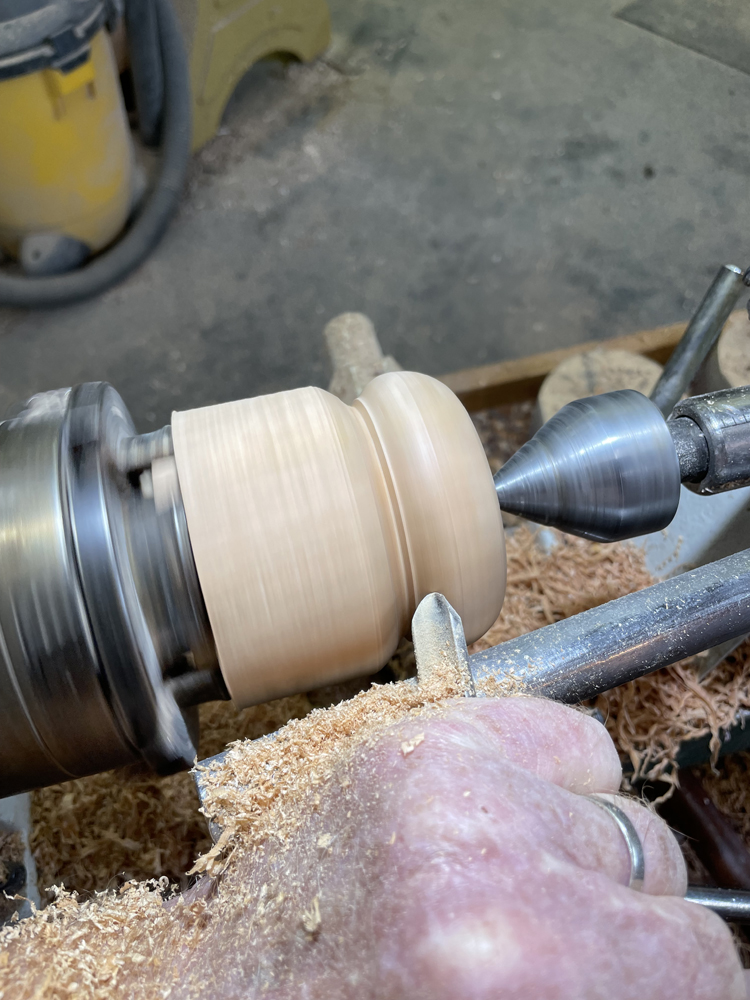 Working further to open up the interior hole while keeping the roundness of the profile requires a bit of patience and is critical to keeping the natural look.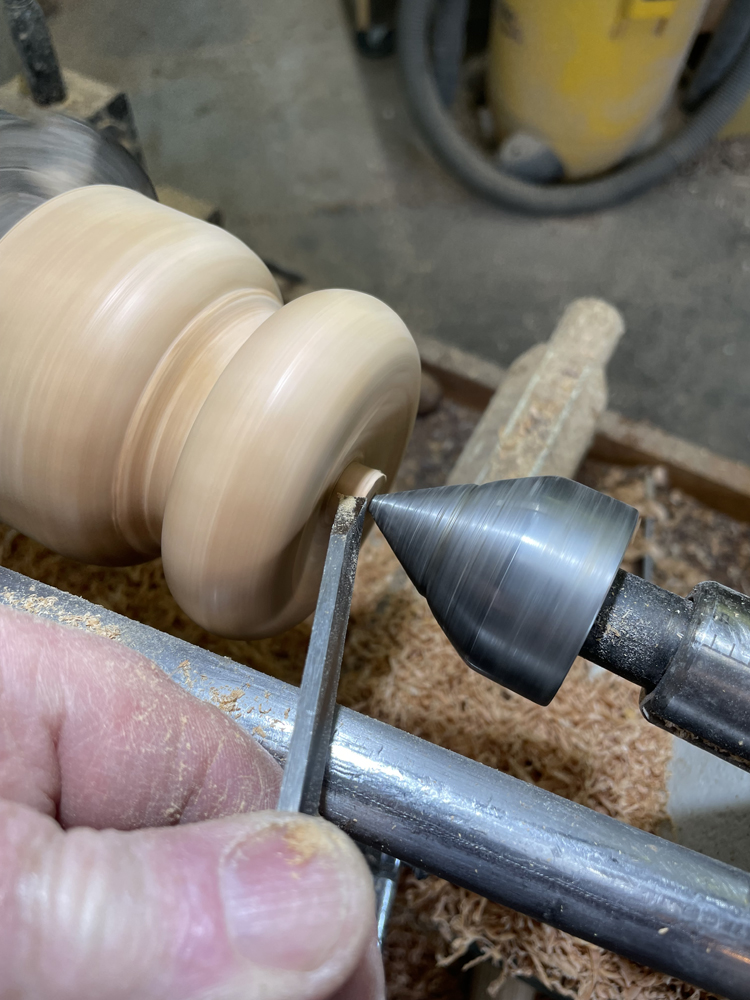 Using a parting tool to open up working space, the full width of the donut is revealed and undercut as far as possible on the inside leaving a small tenon (spigot) for later remounting before parting off.
Given the already mounted blank, a second donut can be sculpted leaving another tenon formed for remounting. Production turning is a constant search for improving efficiencies while upgrading the skills necessary to create "body" and a full diameter in the roundness of turning beads, spheres, jars, and tapers.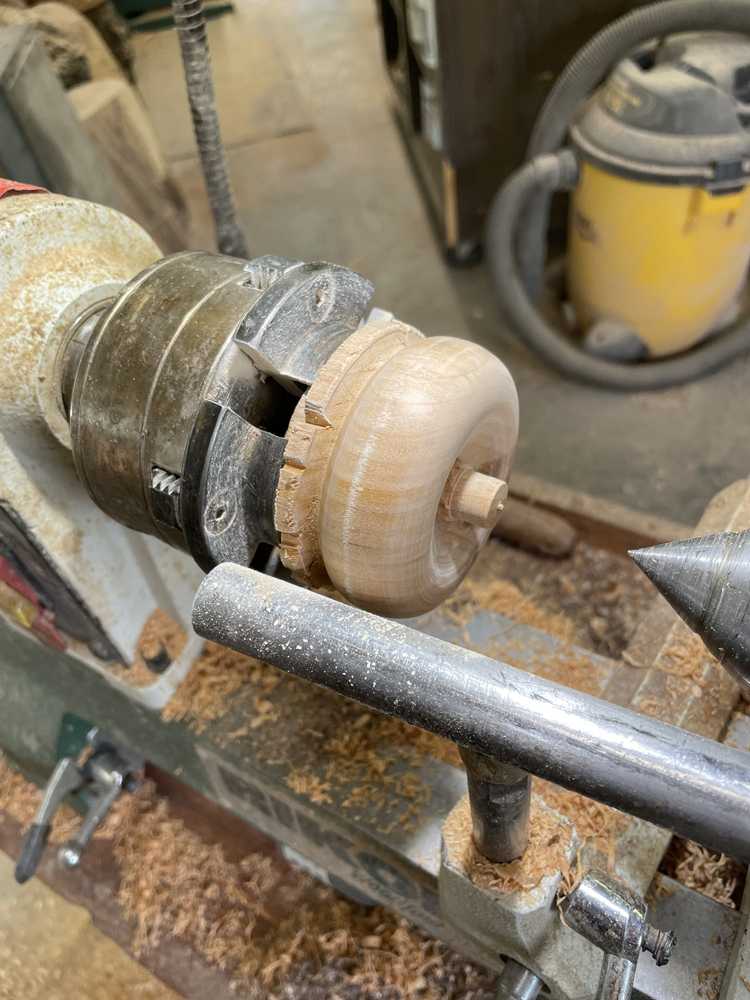 This time, the remounted blank can be turned nearly to finish.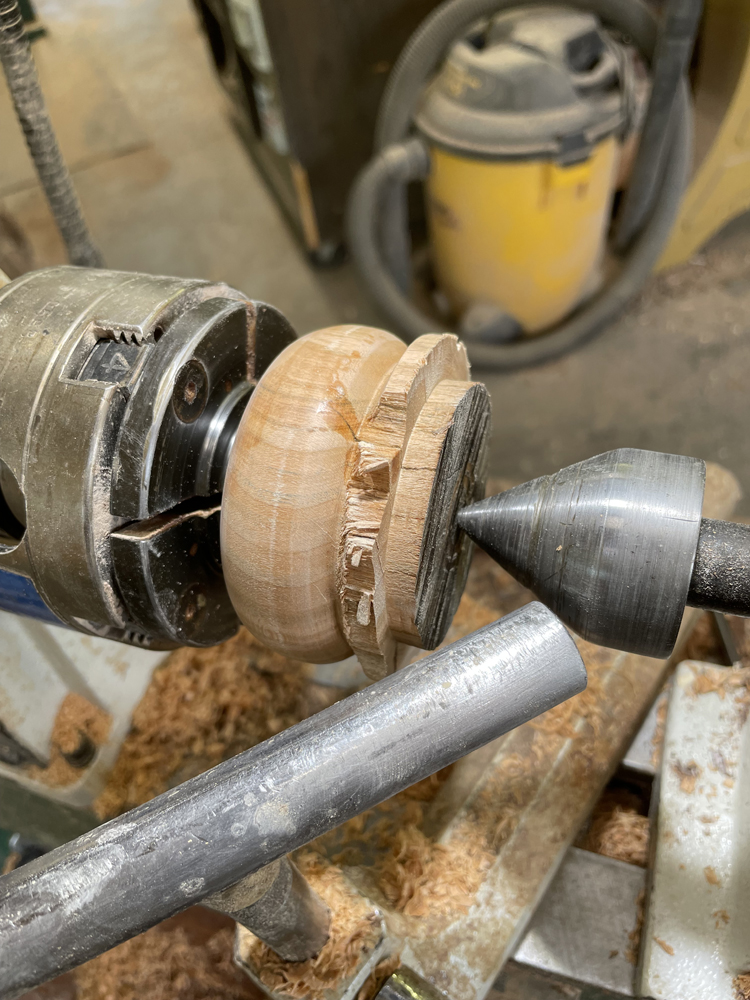 With an inner shoulder scraped for remounting using the chuck's ability to expand from the interior.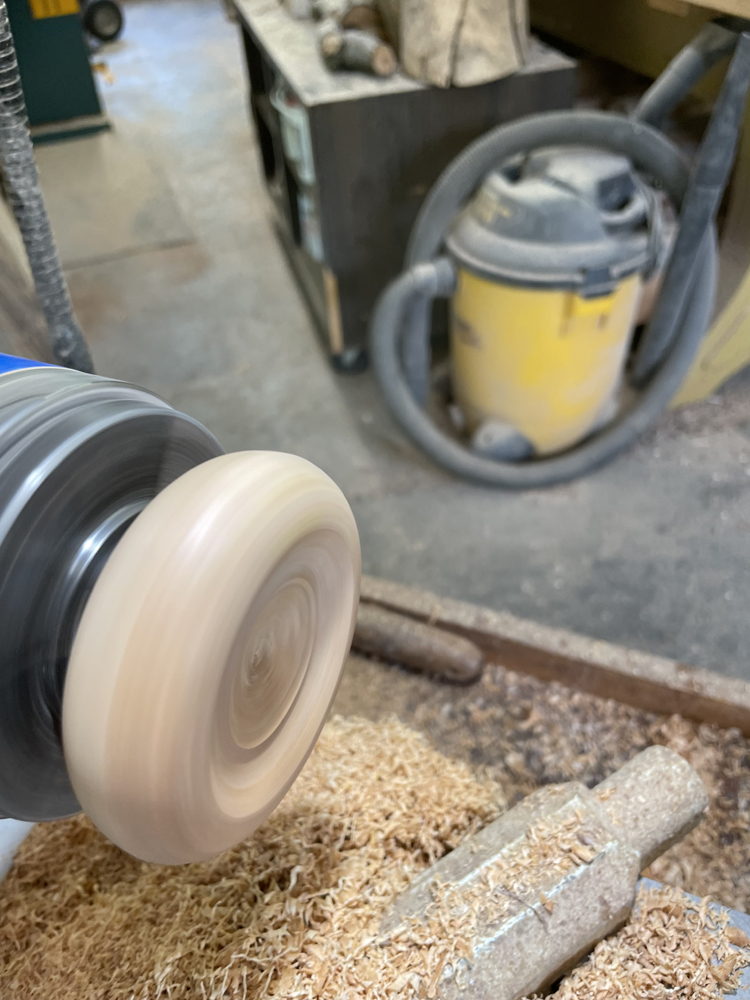 Sanding the exterior diameter at this point is simple.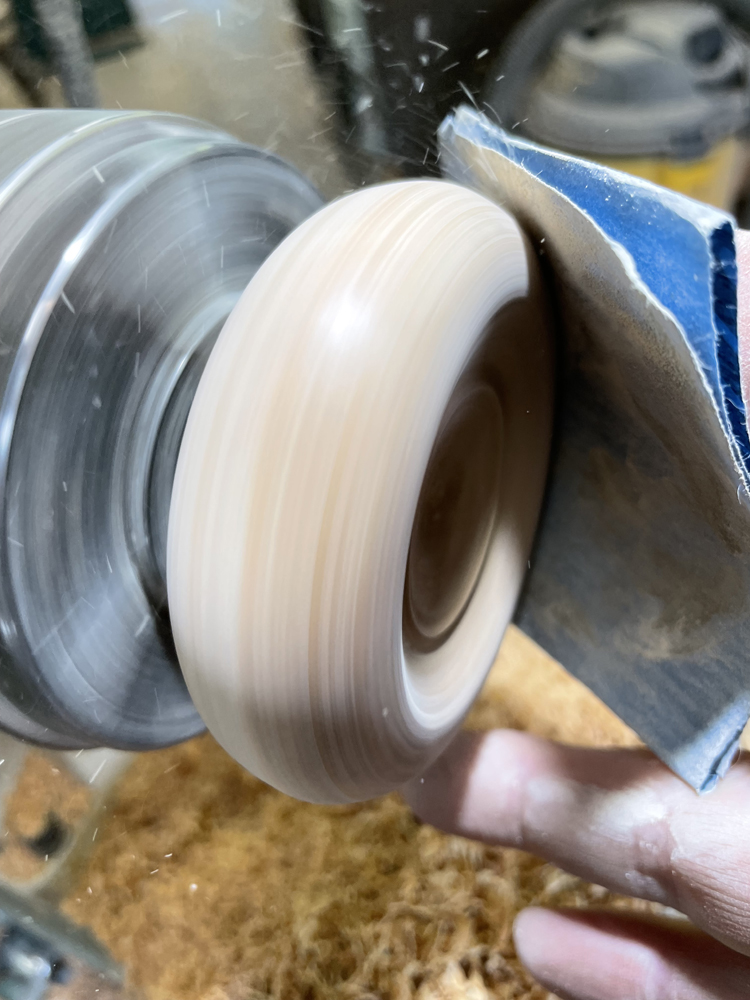 Using a straight scraper to form that inner shoulder prepares for remounting using the chuck jaws on the inside to expand for gripping which will allow the little tenon on the other side to be cut away with a final sanding to the outside diameter and finish applied (I prefer the inexpensive and satisfying shop-made friction polish of shellac, boiled linseed oil, and turpentine – 1/3 each in a closed container).
Before remounting the nearly finished donut on the chuck using the chuck jaws gripping the outside diameter (protecting the finished exterior with a layer of paper towel) to scrape through the center, sand, polish the inside on both sides, and add to the growing bowl of "fresh" multi-flavored donuts on the workbench awaiting a "trade" when delivered.
When I showed up the following Tuesday at my friend's kitchen with my bowl of donuts, I was greeted with delight over the clear flavors of glazed cherry, chocolate, and old-fashioned. We all agreed that these always-fresh donuts would add no pounds and would attract no ants if left sitting out.