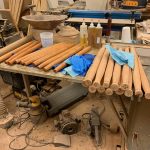 I have volunteered many years for a local Retirement Community/Children's Home in my professional capacity as a Civil Engineer/Land Surveyor. I am also a Residential Contractor and a while back we needed a mantle piece over the fireplace. I bought a piece of 8/4 black walnut and when it turned out to be too wide for the mantle, I cut off a two inch strip and saved it in my shop. One day I was clicking around online and found a French style rolling pin. It occurred to me that my piece of walnut would work very nicely so I made a couple of rolling pins for gifts and they were well received. As it got closer to Christmas I realized there may be a sales opportunity to benefit the Children's Village at the Retirement Community. I typed up a quick prospectus for the fundraising folks and sent it over with a clear offer to decline if they needed to. Well they jumped on it and it has been a rousing success.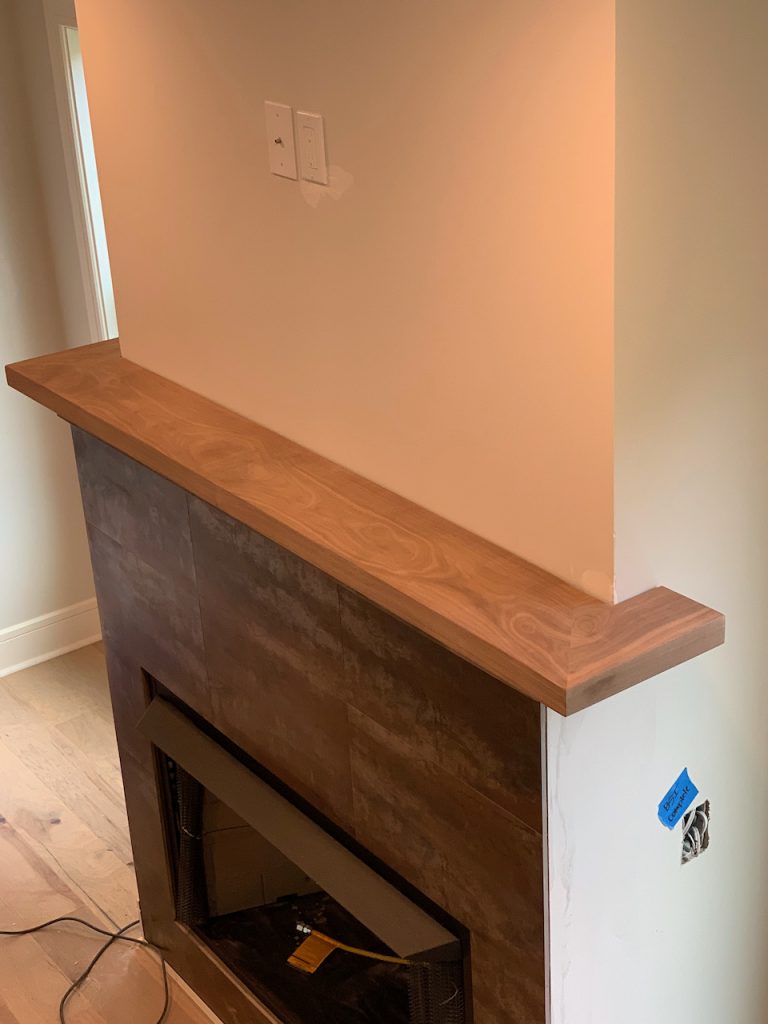 I didn't know how many I thought we might sell, but after an email blast and a Facebook post, we had orders for 8 in the first hour. By noon, we sold 41 and were thinking of cutting off Christmas orders. We ended up continuing, and as of December 24th, 2020 we are up to over 100 sold for a $28 minimum donation. There have been donations of $500 and with a matching grant in place the funds have turned into a significant amount for the children. It has been most gratifying. The marketing people came up with a card to include with the pins which has a picture of me in the shop, a sweet potato pie recipe from my teens in rural Georgia, and a pie crust recipe.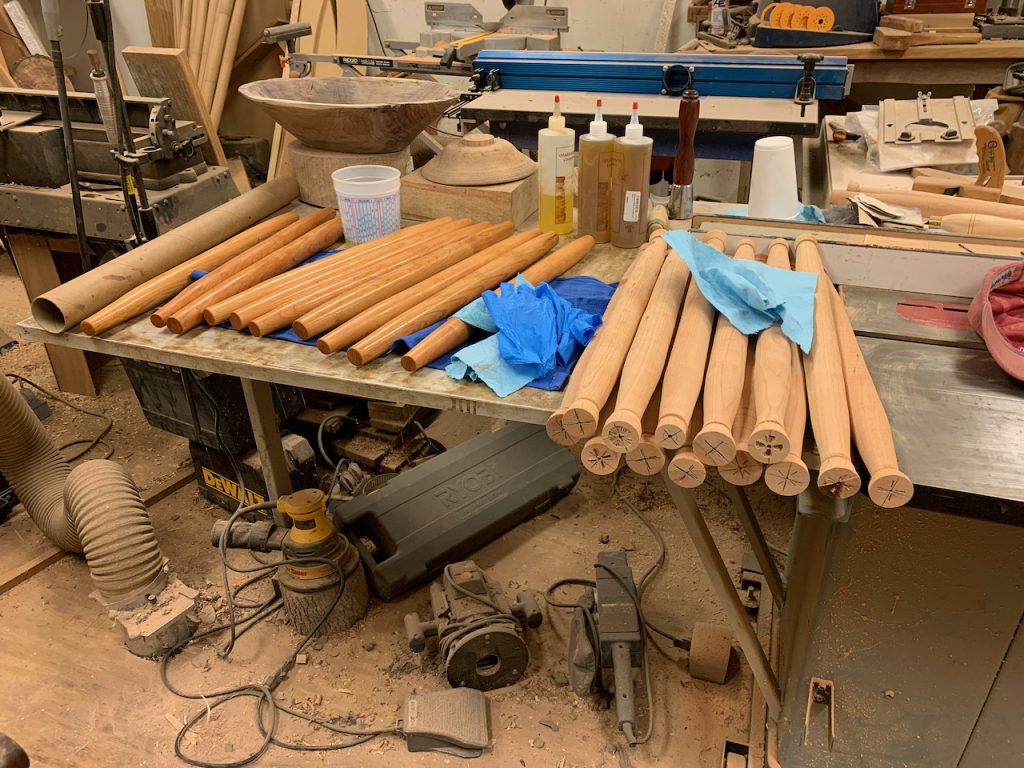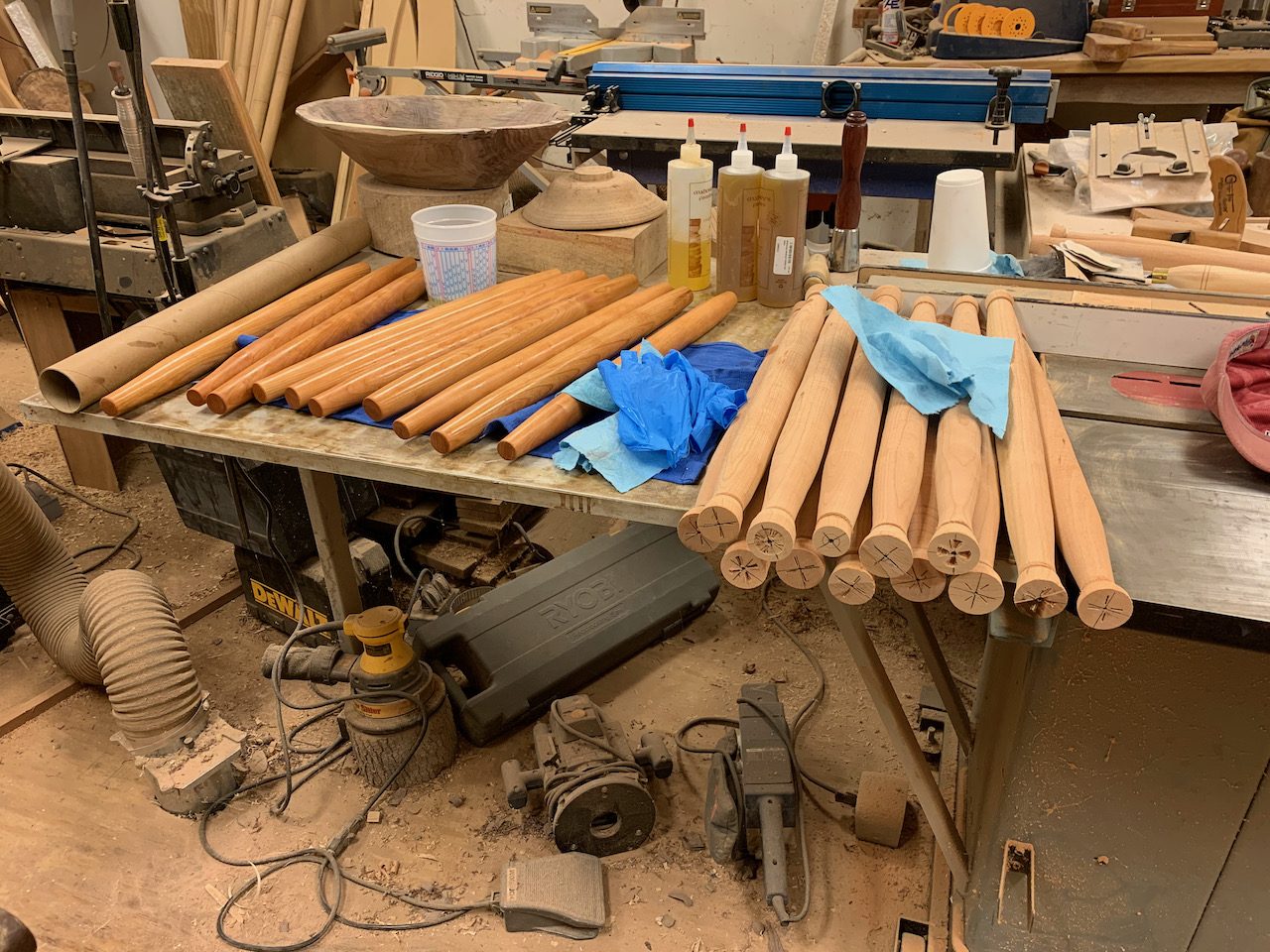 During the annual review with my financial manager, I mentioned the campaign and she ordered 3. And then her company, (think big mega-bank), decided to offer them as gifts for some of their clients and ordered 20 more. To say I was thrilled is an understatement.
If you are not a baker, the pins are 22 inches long with the major diameter at 1.5 inches and a 4 inch taper to one inch at the ends. These pins are wonderful for making pie crusts and other baked goods. It is like driving a sports car rolling a pie crust with one of these dudes.
I make them from walnut and cherry, but I suppose you could make them from any hardwood. I buy 8/4 material and rip them to a square blank I can round on my lathe. I bought a new roughing gouge and it has been an absolute joy to use. I round them with the gouge, set some depth grooves with a parting tool and calipers and then run them out quickly with the roughing gouge. After I get a batch shaped, I hook up the dust collector pipe at the lathe and set to work sanding. I shape with 80 grit, then step up to 150, 220 and then some nonwoven cloths and #0000 steel wool. I trim the ends and round them with my wood rasps then a coat or two of Walnut Oil on them for a finish. I bought 24 inch cardboard mailing tubes and they are on the way.
I was surprised how much better I have gotten at spindle turning after knocking out nearly 100 of these things. The first few I did, I used an old light weight roughing gouge and had the lathe turning too slow. I was getting vibration in the center of the piece and it made a series of small divots all around the piece. I pulled out my new skew chisel but I need more practice with a skew. Now I use the roughing gouge, the parting tool and the sandpapers and I can produce a rolling pin from start to finish in about 20 minutes.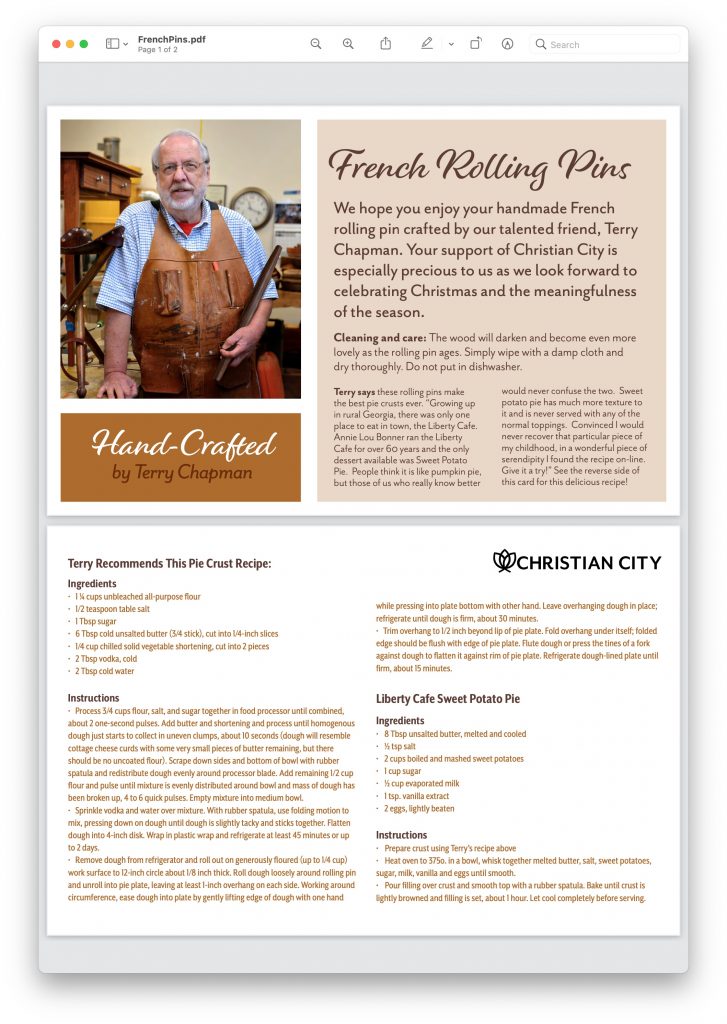 What happiness to be able to do something I enjoy to support an institution that does as much good as this one does. Might want to give it a try.