No Southern-fried Southern boy wants to be called a Yankee, but we share the characteristics of shrewdness and thrift. Thus, each month we include a money-saving tip from Sticks in the Mud woodworker, Jim Randolph. It's OK if you call him "cheap."
Too cheap to buy a chain to hang your project from? Follow me! When I'm hanging something lightweight, especially for painting and other finishes, I use a coat hanger.
Following an accident in our home, an occupational therapist recommended that all of our stairs have handrails on both sides. Being far too cheap to pay someone to install them, I purchased the correct length for both of the stairs in our home and finished them. Talk about unwieldy! Hanging, they wanted to move all around at the lightest touch. As Steven Johnson would say, I had to "noodle" on the problem for a little bit, then I came up with the idea that I could screw hooks into the rails where the attachment screws had been, and hang them to apply wipe-on poly. Coat hangers were ideal for the job. You can hold onto the screw hooks to keep the project still while you finish.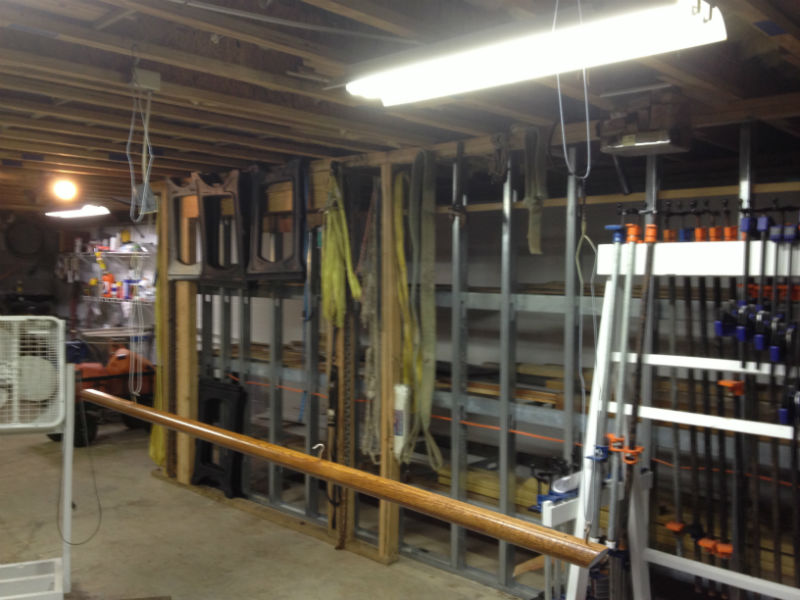 ---
Jim Randolph is a veterinarian in Long Beach, Mississippi. His earlier careers as lawn mower, dairy farmer, automobile mechanic, microwave communications electronics instructor and journeyman carpenter all influence his approach to woodworking. His favorite projects are furniture built for his wife, Brenda, and for their children and grandchildren. His and Brenda's home, nicknamed Sticks-In-The-Mud, is built on pilings (sticks) near the wetlands (mud) on a bayou off Jourdan River. His shop is in the lower level of their home.Questions and comments on woodworking may be written below in the comments section. Questions about pet care should be directed to his blog on pet care, www.MyPetsDoctor.com. We regret that, because of high volume, not all inquiries can be answered personally.