No Southern-fried Southern boy wants to be called a Yankee, but we share the characteristics of shrewdness and thrift. Thus, each month we include a money-saving tip. It's OK if you call me "cheap."
The solution to the moving problem (from Tip #1) started with an almost-freebie. I got some free 3/4″ plywood I found on the side of the road and made a dolly. I framed it with scrap 2x4s and all I had to spend on it was the locking wheels, some paint, bolts, nuts and washers.
When I got home, I put an old blanket on the back of the trailer so the iron frame wouldn't scratch the top. I put my little dolly, covered in another old blanket, where I thought the end of the table would end up and began to slide it out. While the table is heavy, it was manageable to work with one end at a time. Once the first end was secure, I climbed into the trailer and lowered the other end out. After the table was horizontal again it was easy to balance it on the dolly and move it into place.
What of the planer and jointer that were in the way? Almost all of my power tools are on wheels. Unplug the tool, push down the lever that puts the wheels on the floor and soon the tool is out of the way.
If I need to move the Delta UniSaw, there's no calling the neighbor, just roll it wherever it needs to go. Ditto for the band saw, grinder table, oscillating spindle sander, router table and scroll saw. More on that next month.
I chose the dimensions simply: 4 feet by 2 feet. There are lots of screws attaching the plywood to the lumber, and 5/16″ bolts holding the substantial wheels. This cart could haul Godzilla around!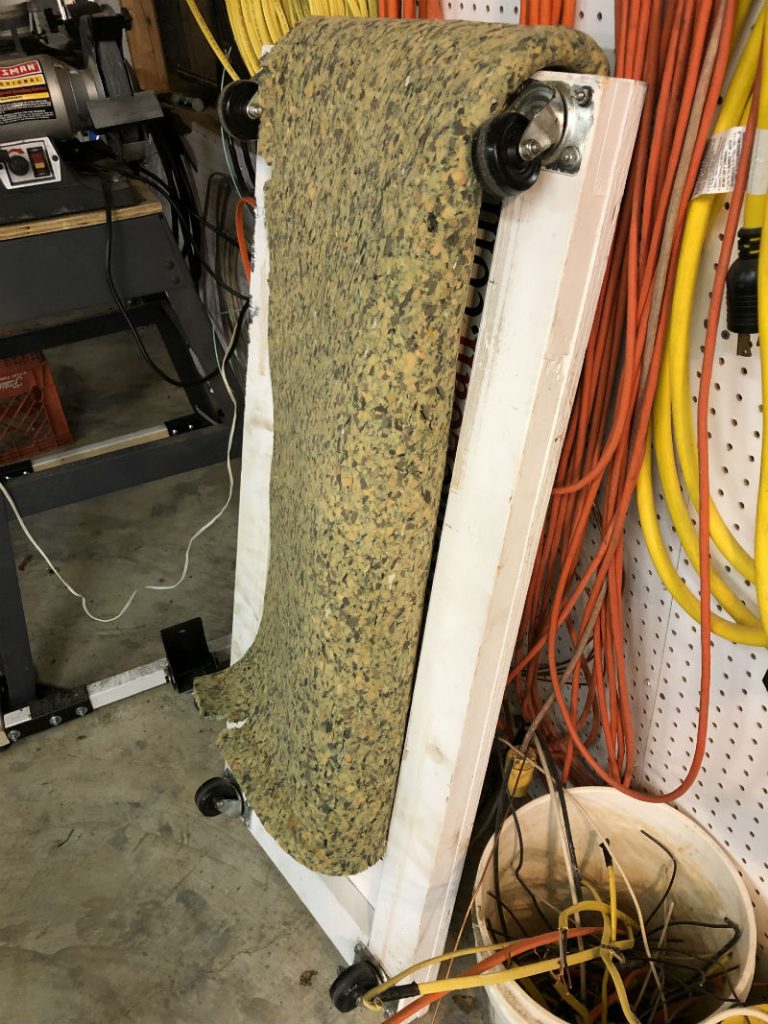 ---
Jim Randolph is a veterinarian in Long Beach, Mississippi. His earlier careers as lawn mower, dairy farmer, automobile mechanic, microwave communications electronics instructor and journeyman carpenter all influence his approach to woodworking. His favorite projects are furniture built for his wife, Brenda, and for their children and grandchildren. His and Brenda's home, nicknamed Sticks-In-The-Mud, is built on pilings (sticks) near the wetlands (mud) on a bayou off Jourdan River. His shop is in the lower level of their home. Questions and comments on woodworking may be written below in the comments section. Questions about pet care should be directed to his blog on pet care, www.MyPetsDoctor.com. We regret that, because of high volume, not all inquiries can be answered personally.