Welcome to "Tips From Sticks-In-The-Mud Woodshop." I am a hobbyist who loves woodworking and writing for those who also love the craft. I have found some ways to accomplish tasks in the workshop that might be helpful to you, and I enjoy hearing your own problem-solving ideas. Please share them in the COMMENTS section of each tip. If, in the process, I can also make you laugh, I have achieved 100% of my goals.
Discarded doors have a million uses. Just as good or better, they're usually free.

Believe it or not, I actually paid for the reject door in this story. As you might imagine, I didn't pay much.
What's so great about doors? For starters, they're flat. Even a cheap interior door is likely to be reliably flat unless it's been wet or lain in a garbage pile for a week.
What else? They're pretty strong. In order to stay flat, a door has internal structures that keep it stable. That may be a wooden frame or, in the cheapest of doors, corrugated cardboard on edge.
Sometimes a door is even waterproof, like this one I made my sharpening station from.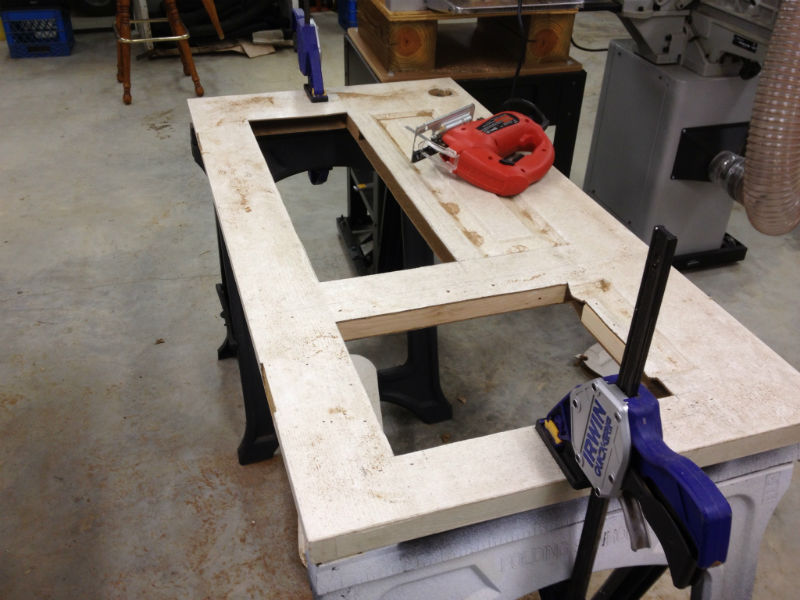 After years and years of using roller stands around my table saw when I had wide and/or long materials to cut, I finally decided I wanted an outfeed table.
I built this "table" from a door my work next-door-neighbor had acquired. A Bell Telephone building in Biloxi was being torn down, and my friend got word that there were accordion doors inside. As you might imagine, Ma Bell didn't buy cheap doors. Although this is only one panel of a long, long partition, it weighs a ton.
I asked my friend if I could buy a couple, and he graciously agreed.
I took one to a sheet metal shop and asked them to wrap it in galvanized steel. I use it for wet and dirty things that require the surface be protected.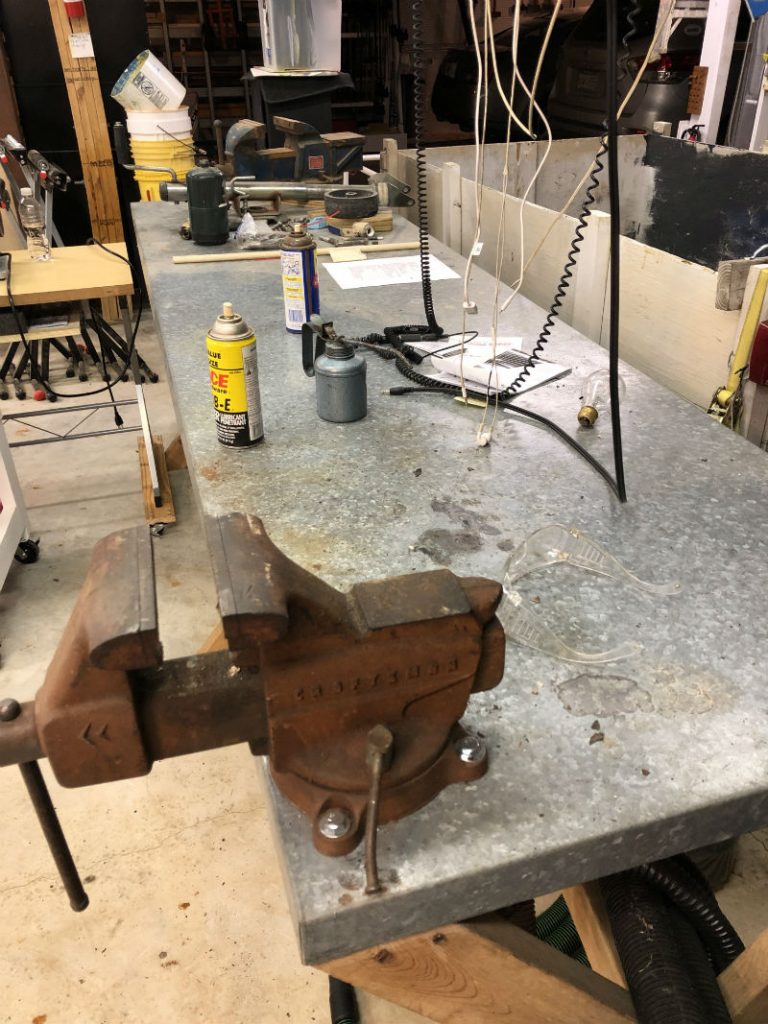 I made the other door into a general working table. It wouldn't have hurt my feelings if it had been wider, but two together would have been too much. It's flat. It's solid. It's green. Not that green is an advantage of any kind. In fact, it's kind of ugly, but you ignore it after a while.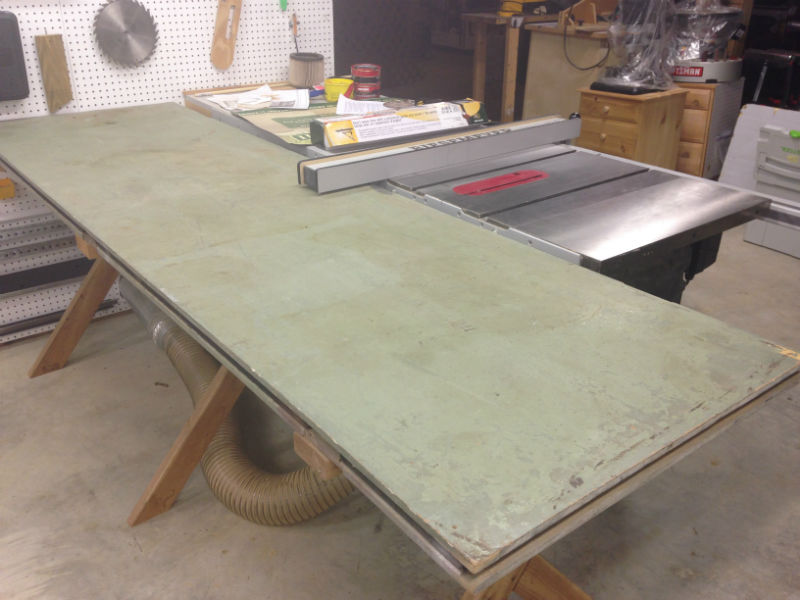 Challenge Number One was getting it home to my shop, as it was in the clinic garage. It took three of us to load it into the utility trailer. I put it upside down on a thick blanket. It's pretty top-heavy and I didn't want the rough floor of the trailer ruining the door-smooth top on the way home.
That went well.
But, I got home and realized, "Wait a minute. I don't have any help. I have to get this off the trailer and diagonally across the garage, around the table saw, past the planer and jointer and into position." For the solution to that problem, click on this month's Tip Number Two.
OK, now it was behind the table saw. And, it was too tall. Arrgghh! I needed to turn this monstrosity over to trim the legs! I had to keep reminding myself it was free!
Regular readers already know I'm into overkill. What I was about to do next is overkill, but with no good justification. I'd only recently bought my Festool TS 75 Track Saw, and I was dying for any excuse to use it. "Besides," I thought, "I want the bottom of these legs to be as flat as possible." With that in mind, I carefully attached a Festool track to each pair of legs and cut. Perfection!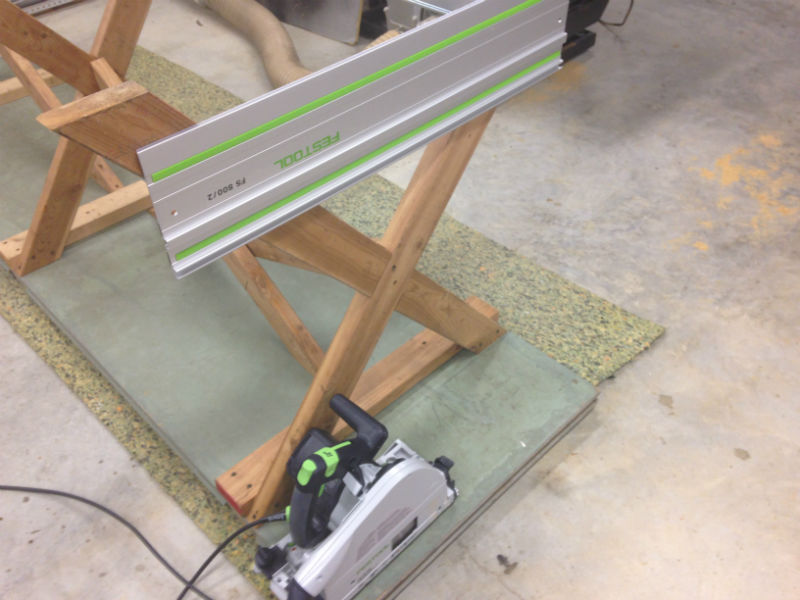 Like most people, I use my "outfeed table" as an assembly table and everything else you can imagine. While I might like it to be a bit wider, the improvement when cutting full sheets of plywood all by myself is incomparable.
Although, now that I have the Festool TS 75 Track Saw, I might not be doing that much anymore.
---
Jim Randolph is a veterinarian in Long Beach, Mississippi. His earlier careers as lawn mower, dairy farmer, automobile mechanic, microwave communications electronics instructor and journeyman carpenter all influence his approach to woodworking. His favorite projects are furniture built for his wife, Brenda, and for their children and grandchildren. His and Brenda's home, nicknamed Sticks-In-The-Mud, is built on pilings (sticks) near the wetlands (mud) on a bayou off Jourdan River. His shop is in the lower level of their home.Questions and comments on woodworking may be written below in the comments section. Questions about pet care should be directed to his blog on pet care, www.MyPetsDoctor.com. We regret that, because of high volume, not all inquiries can be answered personally.