Earlier this month we announced the winner of our Tormek T-8 Giveaway, Greg Williams from Birmingham, AL.
Since he has had his new Tormek T-8 in his shop for a few weeks now, we thought we'd check in and see how it is working for him.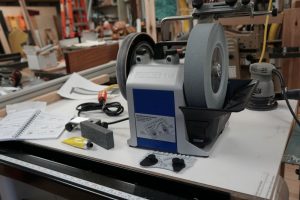 I have seen the Tormek demonstrations at the different woodworking shows for years and always wanted one. I was so surprised when I got the email from Chris Bagby of Highland Woodworking informing me that I had won the Tormek T-8 in their giveaway. I have had a hectic few weeks and it has been hard to get in the shop to set it up. I watched a few videos of setting the Tormek up for use and read the enclosed literature (very good instruction manual) After some time, I was able to get a nice sharp edge on an old estate sale bargain chisel. I am sure that like most skills, with time I will be able to produce a nice useful edge on many other of my chisels and planes. Once again, thanks to Chris and Highland Woodworking for a wonderful prize -Greg Williams, LEED AP
Make sure to enter our current SawStop Router Table Giveaway for your own chance to win! Deadline for entry to our next contest is Noon ET on September 25, 2018.