Welcome to "Tips From Sticks-In-The-Mud Woodshop." I am a hobbyist who loves woodworking and writing for those who also love the craft. I have found some ways to accomplish tasks in the workshop that might be helpful to you, and I enjoy hearing your own problem-solving ideas. Please share them in the COMMENTS section of each tip.  If, in the process, I can also make you laugh, I have achieved 100% of my goals.
Why do we pour finish from the can into a separate container? Because we know that dipping our brush into the original container, applying finish to our project, then dipping into the container again will carry debris from the project surface back into the can.
It's a practice that can lead to some waste if you have finish left in the secondary container, but it's better than ruining an entire quart or gallon of expensive varnish or paint. To say nothing of ruining the surface of your project!
Still, what if, when transferring finish, you introduce dirt or dust? That really defeats the purpose of the extra step, doesn't it? There are some things you can do.
For example, when you finish cleaning your funnels, don't just toss them onto a shelf to collect dust. Small and medium funnels will fit into zipper-locking bags and be fresh and clean the next time you need them.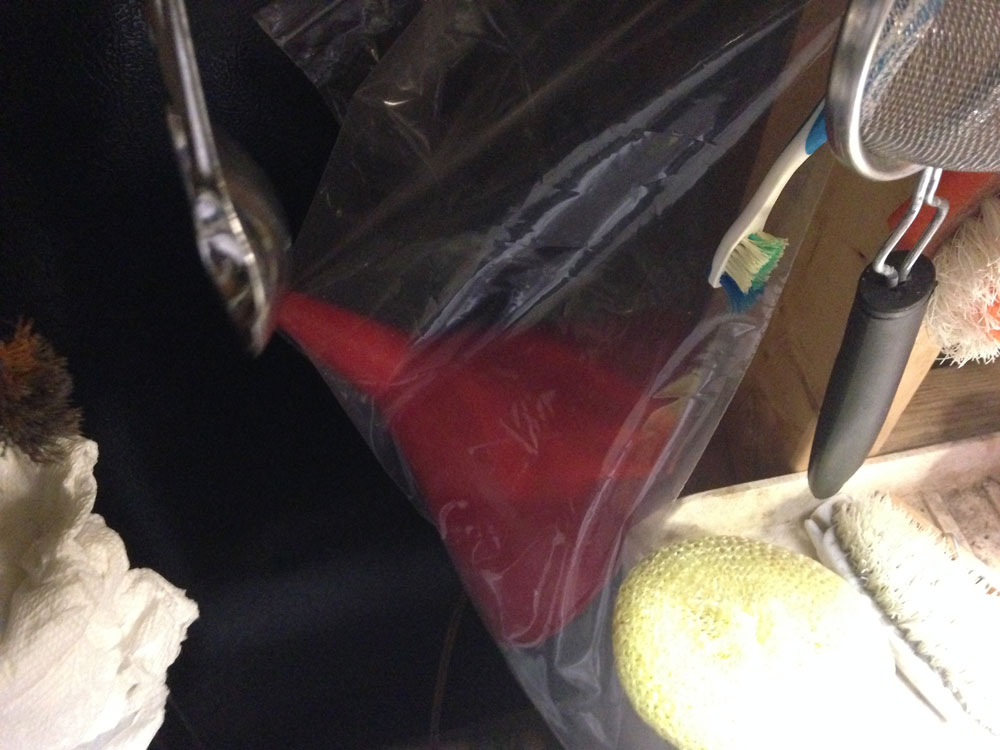 Wider and longer funnels may require a different approach. For example, with my long, black funnel I put a used paper towel over the top, secured by a rubber band. The little end is sealed with a portion of a sheet of paper towel forced into the opening.
And, what of the container decanted into? Leave that lying around and it's going to be full of dust, cobwebs and insects. Maybe even worse.
For that reason, I save only containers with lids. They can be stored indefinitely and still be clean inside.
---
Jim Randolph is a veterinarian in Long Beach, Mississippi. His earlier careers as lawn mower, dairy farmer, automobile mechanic, microwave communications electronics instructor and journeyman carpenter all influence his approach to woodworking. His favorite projects are furniture built for his wife, Brenda, and for their children and grandchildren. His and Brenda's home, nicknamed Sticks-In-The-Mud, is built on pilings (sticks) near the wetlands (mud) on a bayou off Jourdan River. His shop is in the lower level of their home.Questions and comments on woodworking may be written below in the comments section. Questions about pet care should be directed to his blog on pet care, www.MyPetsDoctor.com. We regret that, because of high volume, not all inquiries can be answered personally.