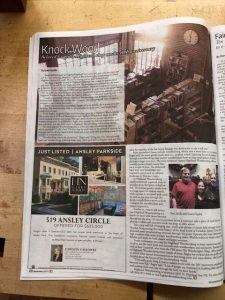 We're excited to have been featured in another Atlanta publication this month after having just been featured in an interview on the Voyage ATL website.
Grace Huseth, a contributor for Atlanta INTOWN sat down with Molly Bagby, daughter of owners Chris and Sharon Bagby, to discuss 40 years of Highland Woodworking.
Although Molly hasn't been around for all 40 years of the store's operations, she spent the majority of her childhood in the store when Sharon started bringing her to work just a few weeks after she was born.
Read more about Highland Woodworking's history in our article featured in the November 2017 issue of Atlanta INTOWN.
You can also scroll through this month's issue below: