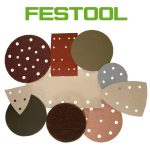 To help us remember the dizzying array of Festool Abrasives, Steven Johnson has given us a mnemonics lesson using word association. Click here to watch the video he made.
The Merriam-Webster dictionary defines "mnemonic" as (noun) "assisting or intended to assist memory." As an example, they give, "To distinguish "principal" from "principle" use the mnemonic aid "the principal is your pal."'
I used it just the other day. I wanted to order some paper for my new Festool RO-90 that switches from delta sander to 90mm round random orbit sander, and Rubin2 was the first example that popped up in the 120 grit I wanted. I thought about Steve's video for a minute, and said, "No, what I want is 'general, gray,'" which helped me remember it was Granat that I needed, not Rubin2. A couple more clicks on HighlandWoodworking.com and I was on the right paper.
With that in mind, I asked Steve if I could publish a written form of his memory tool that you and I could print out and nail to our shop walls, or laminate and store with our sandpaper supplies. He said OK, so here it is.
Granat: "General-gray-blue color." Steve says if you can buy only one Festool abrasive, Granat may be your go-to general sandpaper. It's good on bare wood and finished wood and is supplied in extra-coarse to extremely fine (40 to 1500).
Rubin2: "Raw wood, russet potato red." It has a special coating that sheds raw wood fibers. It is available from coarse to extra fine (40-220).
Brilliant2: "Between finish coats, beige." Anti-static coating that works well sanding paints, fillers, varnishes, lacquers, shellac even water-based finishes. Its surface won't load up or "corn" as some papers do with finish materials. Coarse to fine (40-180).
Vlies (pronounced like "fleece"): "Clean, scour, scuff and polish." Steve says it's thick, like a pot-scrubbing pad. Good for applying paste wax on equipment. Clean, scour, scuff, sand, polish, smooth out irregular surfaces. It doesn't have dust extractor holes, but dust goes right through it. Grits are A100 to A800, polishing green and fine polishing white.
Saphir: "Shaping or stripping." Aggressive, super-coarse to coarse grits. Removes a lot of material quickly. Grits 24-80.
Platin2: "Premium polishing pad." Foam-backed for high gloss finishes, pumice and rottenstone. Used extensively in the auto industry, but Steve has used it on an ebony project. Grits range from S400 to S4000.
Titan2: "Tucks in" to curves and contours. Solid surfaces, couple with super-flexible latex backer. Steve says use it t polish your Bentley.
Find out more and purchase Festool Abrasives at Highland Woodworking!
---
Jim Randolph is a veterinarian in Long Beach, Mississippi. His earlier careers as lawn mower, dairy farmer, automobile mechanic, microwave communications electronics instructor and journeyman carpenter all influence his approach to woodworking. His favorite projects are furniture built for his wife, Brenda, and for their children and grandchildren. His and Brenda's home, nicknamed Sticks-In-The-Mud, is built on pilings (sticks) near the wetlands (mud) on a bayou off Jourdan River. His shop is in the lower level of their home.Questions and comments on woodworking may be written below in the comments section. Questions about pet care should be directed to his blog on pet care, www.MyPetsDoctor.com. We regret that, because of high volume, not all inquiries can be answered personally.