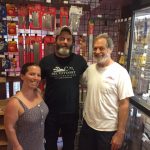 My name is Molly Bagby and I have been involved with Highland Woodworking since I was a mere 7 days old (or maybe even earlier than that). Once my Mom, Sharon Bagby, recovered from pregnancy she started back to work right away and brought me with her. While I don't remember much from those early days, growing up at Highland Woodworking has contributed to my passion for learning new things, as well as my crafting skills. But despite being around tools for most of my life I have never actually taken the time to learn basic woodworking. Now that I am more involved with the business side of helping to run the store, I figured it was about time to actually learn some woodworking skills.
An amazing opportunity recently came along to take a 2 week Basic Woodworking class at the Center for Furniture Craftmanship in Rockport, Maine. These classes fill up months in advance and when I called back in April to sign-up I was told that the class was full, but I could be put on the waitlist. I remained on the waitlist for several weeks. About a month before the class was scheduled to start, I gave them a call to see where I was on the waitlist. There were still 2 people ahead of me, so I figured my chances were pretty slim this close to the start. Last Tuesday, I got a voicemail while at work and saw that it was from the Center for Furniture Craftmanship. I called them back right away and they said a spot had just opened up due to a last minute cancellation and it was mine if I wanted it. It didn't take me long to decide and I said yes right away. I mean, wouldn't you have said yes to an opportunity to escape to Maine for 2 weeks and become fully engulfed in woodworking?
During these next 2 weeks I'm looking forward to learning as much as I possibly can about woodworking so I can become a better, more educated employee at Highland. I'm also looking forward to beginning a new hobby. Judging from what I've been able to see through the shared experiences of our customers, I'm sure it will be a very rewarding one.
Stay tuned to this blog to hear about my journey as a beginning woodworker! You can also follow me and my experiences on Instagram @HighlandWoodwoman..