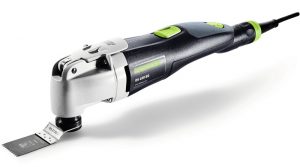 In the May 2017 issue of Festool Heaven, Jim Randolph shares a quick story on how his first use of the Festool Vecturo oscillating tool helped finish a challenging job quickly and easily.
I'd had my new Festool Vecturo for only 24 hours before I had a job for it…After several hours of clerical work, I was ready for some woodworking. A DIY job would be as close as I could get. When our plumber Terry assessed a job we asked him to do at the office, his first lament was that one of the framing members for this AC air-handler platform was right in the way of reaching the bathtub faucet inside this wall.

Our answer? "We can fix that!"
Click to read how Jim used his new Festool Vecturo for a quick and easy fix.