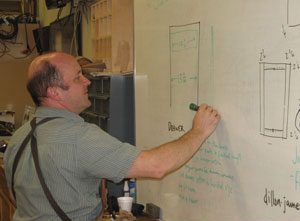 Jim Dillon has been involved with Highland Woodworking for quite some time now as both a customer and a class instructor in the Highland Woodworking classroom, where he teaches monthly classes ranging from hand tool skills to building bookcases, and much more!
He became a full-time woodworker in 1998 after he taught writing, which stemmed from his college English degrees. When not teaching at Highland, you can find Jim as the resident cabinetmaker at Fernbank Science Center here in Atlanta.
Jim keeps up a regular blog, The Thousand-Dollar Shop, where he discusses his current projects, new tools, and how he accomplishes woodworking "on a less than infinite budget," something I'm sure we all strive for.
If you're in Atlanta anytime soon, sign-up for one of his classes! Below is his upcoming class schedule. All classes are held at Highland Woodworking.
Saturday, April 1st – Build a Tool Storage Box
Tuesday, April 18th – Wednesday, April 19th – Build a Bookcase
Sunday, May 7th – Using Hand Planes
Saturday, May 13th – Hand Cut Dovetails
Tuesday, May 16th – Hand Tool Sharpening
You can follow Jim on Twitter (@jimdillon6) and Instagram (@from_ogema), and make sure to check out his blog!