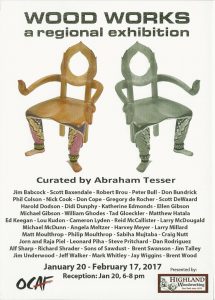 Last weekend was the opening of Wood Works, a gallery exhibition at the Oconee Cultural Arts Foundation (OCAF) in Watkinsville, GA, running from January 20th-February 17th, 2017. Highland Woodworking is presenting this event full of woodworking projects from some of the Southeast's most talented woodworkers.
Over the next few weeks, the exhibition will be hosting several special events which we're sure will be of interest to many of our readers.
On Saturday, January 28th at 10:30am, there will be A gallery talk by Philip Moulthrop and Sabiha Mujtaba at OCAF, which is free and open to the public. Sabiha is both a class instructor and employee at Highland Woodworking whose work is being exhibited at Wood Works.
On Friday, February 3rd at 7:00pm, there will be a PechaKucha, a series of short, fast paced, graphically illustrated commentaries by multiple wood artists hosted by Sons of Sawdust co-founder Matt Hobbs at OCAF. This event is also free and open to the public, and will include refreshments.
Wood Works has been written up by several media outlets, including:
WUGA, the local NPR affiliate, did a short interview with Alf Sharp and Abraham Tesser by Michael Cardin.
The Flagpole, by Barbette Houser.
BOOM, by Theresa Rice on the show: Romancing the Wood .
The Athens-Banner Herald, the local daily paper had a wonderful story by Wayne Ford.
The Oconee Leader, by Wayne Ford on Abraham Tesser, the organizer of Wood Works.