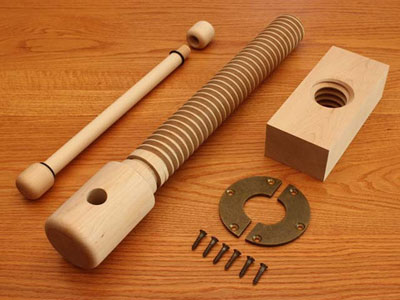 Well, it's that time of year again, when thoughts turn to what I'd like to receive this holiday season. Holding my work has gotten to the top of my list. I've finally decided to install a leg vise on my workbench. I'm going to be hand cutting stopped tapered sliding dovetails and I need a way to hold my workpieces firmly in a vertical position. Frankly, I thought I could get away without this until I used one in Scott Meek's handplane class. Now I can see why no shop, at least one that uses hand tools for more than planing, should be without one. It can bring the wood up to eye level and make it much easier to work.
I've settled on Benchcrafted's retro style crisscross assembly, since my installation will be on an existing bench. I'm pairing that with the Lake Erie wooden screw. Why? I know the Benchcrafted wheels work wonderfully, but something about the wooden screw just calls out to me. Call me traditional.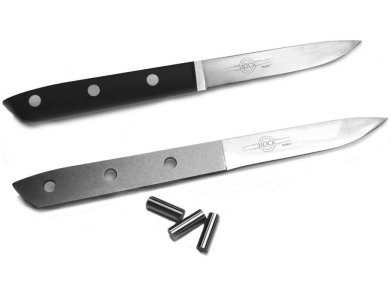 I've got up a short list of stocking stuffers as well. I'd like to give the Old Brown Hide Glue a try; I've heard good things about it. I need some more blades for my Knew Concepts fret saw. And I'd like a Hock paring knife blade kit to upgrade the collection in my kitchen.
Now, with a list this short, is that too much to hope for?
---
Norm Reid is a woodworker, writer, and woodworking instructor living in the Blue Ridge Mountains with his wife, a woodshop full of power and hand tools and four cats who think they are cabinetmaker's assistants. He is the author of the forthcoming book Choosing and Using Handplanes. He can be contacted at nreid@fcc.net.