Generating gifts for others on special occasions and holidays can be a challenge that offers endless opportunities for creativity and imagination while adding a tension of uncertainty that comes from trying to guess what will delight someone else on a specific occasion, particularly if you wish to make it. While I prefer to make gifts rather than purchase them (the Scot in me, perhaps), I also enjoy the process of thinking about what a recipient might like or need and typically hope to add an element of surprise and delight.
Three of the people who are close to me present a particularly significant challenge because when I miss the mark, I can see that my gift is headed for the back shelf, re-gift drawer, or worse – a painful experience that I work hard to avoid. When I hit the mark with these folks, the gifting is particularly rewarding.
One gifting effort that has been successful for me over the years is to make a puzzle or game to give as a gift. Doing this solves both the gifting desire while inviting others to either play the game or in the case of a puzzle to compete or contribute in attempts to solve it. When the recipient unwraps one of these gifts, there is a clear invitation to others to join in and play.
Games as Gifts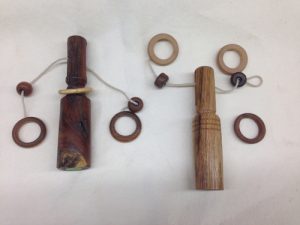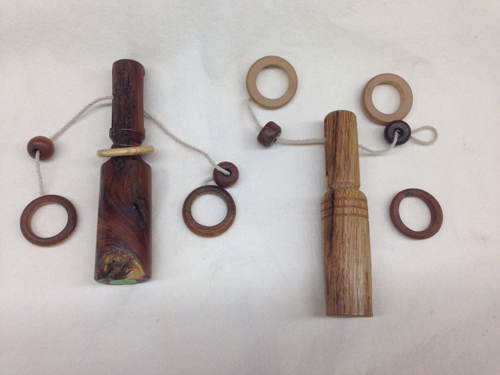 In October 2015, Highland Woodturner published my directions to make the fascinating Ring 'n String turned puzzle (Issue #55). This delightful puzzle offers a significant challenge to many people, satisfaction to those who master its easy solution, and an opportunity for the turner to choose design and wood that make it a beautiful piece of artistic display. I will also rate it high as a woodturning skill-builder for the variety of spindle techniques and tools.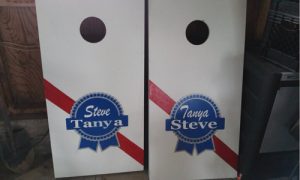 Another favorite gift-game that allows a broader sense of creativity and group fun is "Corn Hole" – popular especially with my sons and grandchildren. The photo at left is of a wedding gift set that my oldest son recently made for his friends Tanya and Steve, and it was well-used at their recent all-day field/tent based wedding reception.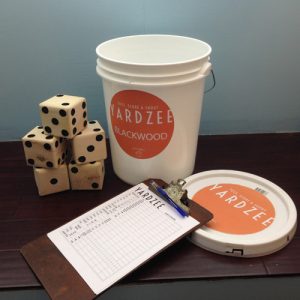 A similarly enjoyable and party-playable group yard game is "Yardzee," a large-scale adaptation of the famous Yahtzee, a complex game of five dice that adds an element of strategy, tactics, and scoring similar to card games like poker and canasta.
There are several excellent sources on-line for making a set for Yardzee that include printable templates for setting the dice holes and printing the graphics and scorecards.
Not everyone is right for a puzzle or game gift, and because I am quite dedicated to woodturning, I have explored a wide variety of gifts over the years that seem to be gifts that people value and keep, my own criteria of success.
More practical gifts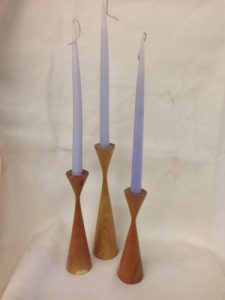 Blending beauty in color, texture, shape, and form with an utilitarian Osolnik design candlesticks, an admirably beautiful gift, challenges the many woodturners who struggle with the magic skew chisel. In stepped collections of three, five, or seven candlesticks of a naturally beautiful wood like black cherry, walnut, ash, or locust, this gift is a sure winner with every hostess and decorator because of the unique beauty of the wood used, the variety of arrangements that can be created with these as a core element, and the opportunity to match the wood with a limitless assortment of flavors and colors of wax candles.
A similarly useful and potentially beautiful gift is a turned lidded box. Over the years, I have turned boxes for people in my life who have a treasured possession to care for, for a beautiful piece of wood/art that they can admire and use for different purposes, and once in a while to contain a letter, symbol, or gift certificate additional gift that was late being completed, too large to put in a box to wrap, and once for a wife's surprise new-car key!
The best part of these types of gifts is that they give many times – naturally at the time the gift is made, but also at the giver's inspiration and personal reward designing, making, polishing, and anticipating the act of giving.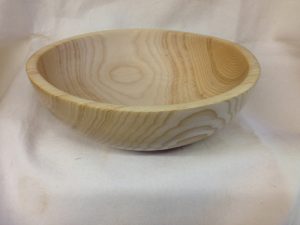 Another rewarding gift, reliable, useful, and potentially lovely is the gift of a hand-turned salad bowl of white ash. Like the earlier gift choices, this gift allows the turner to meditate on the recipient during the design and execution phase, anticipation during the drying and finishing phase, and deep shared pleasure when the gift is delivered and then put to use at a family or community meal.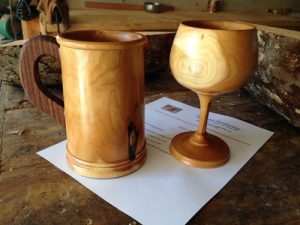 Last summer, my middle son asked me to make his friends a wedding present of a beer stein and wine goblet, which I did from some local apple wood I had on hand. This type of gift, like the other useful gifts that bring the warmth of wood to the deeper relationship of people, gives multiple times. While I do not know his friends, I do know he would only ask me to do so for special friends in his life. I was honored that he asked me to join their relationship that way, and perhaps at some point I will meet the newly joined couple. The task (fastening the handle was my challenge) was worthy, and I copied a pewter beer mug given to me by my father on my 21st birthday to make the beer mug look authentic. Somehow that seemed a significant recognition of this couple's special anniversary day and my part in providing it.
But all of this aside, I believe I am naturally biased toward gift giving (creation) above gift receiving. In this blog last December, I shared my most treasured gift, the "gift of time" in a blog entry called "Resolutions" which I will invite you to read and reflect upon.
That gift succeeded with unexpected benefits and partners. I do, in fact, know what to gift more specifically this year as a follow-up and have already begun my preparations.