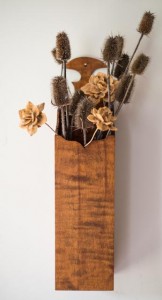 A common feature in colonial American houses and taverns was the pipe box.  A tall slender box, often featuring ornamentation on its top edges and sometimes incorporating a drawer for matches and sundries, it could hold a half dozen or so long-stemmed clay pipes ready for use.  I really like the looks of these pipe boxes and though I won't use them for pipes, decided to make one for my home, and it looked to be a fun woodworking project.
If you check on Pinterest, you'll find them in a variety of shapes and finishes.  Some were simple in design, others quite ornate.  Most older ones were painted.  I chose to make a fishtail design, a fairly common pattern with moderate ornamentation, that I obtained from Charles Neil's Mastering Woodworking web site.
I began by resawing some curly maple boards to 1/4" thickness.  Then I made 1/8" plywood templates for the top and side pattern.  I traced the patterns onto the maple and cut out the top edges of the box on the scroll saw.  You could use a jig saw, turning saw or fret saw for this if you don't have a scroll saw.  I then trace-coated the maple with General Finishes Medium Brown dye, sanded it to 120 grit, and repeated this trace coating process before sanding to 180 grit.  I sanded the end grain edges to 600 grit, smoothing the curves cut by the scroll saw as I did.
I decided to make my box without a drawer at the bottom.  I cut the parts to final length and assembled them with glue and pin nails.  Once the glue was dry, I applied a mixture of 3 parts General Finishes Medium Brown to 1 part Orange water-based dye.  When dry, I sprayed the piece with three coats of matte lacquer finish.  If you prefer, you could use a less expensive wood such as poplar and coat it with Milk Paint for an authentic period look.
Since we don't smoke, we'll use the box to display dried flowers.  It would make a nice gift or holiday project.  And, I'm told that these boxes can make good sellers in the craft marketplace.
---
Norm Reid is a woodworker, writer, and woodworking instructor living in Virginia's Blue Ridge Mountains with his wife, a woodshop full of power and hand tools and five cats who think they are cabinetmaker's assistants.  He is the author of Choosing and Using Handplanes: All You Need to Know to Get Started Planing by Hand.  He can be contacted at nreid@fcc.net.