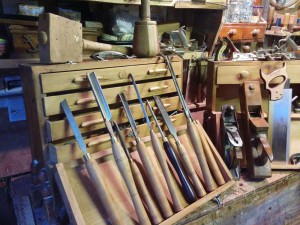 As I have said before, my wife is constantly insisting that I have three of every woodworking tool ever invented. Of course that's not true. There are many of them that I only have two of. (However, at last count I had 37 different chisels, 28 pairs of pliers and 19 sharpening stones.) Now please understand; I'm not one of those tool- collector guys who own lots of shiny new tools – but hardly ever makes anything with them. I assure you, all of my tools are well used – I usually have about five or six projects going at any one time – and all are kept sharp and ready to use at a moment's notice.
In addition, I also have a usual complement of power tools – table saw, drill press, lathe, band saw, etc, etc. Not to mention all sorts of sanding, clamping, gluing, and finishing supplies and other goodies.
So what's the problem?
Well, it's this.
I was 86 years old on my last birthday in October. I'm still active and going strong and I keep saying that I plan to live forever. (So far, so good.) But I also know that one of these days, those tools will need to be looking for a good home – preferably with someone who will both appreciate them and use them with the care and love that I have.
I figure that my collection is worth somewhere around $30,000 and one option would be for my wife to sell them and enjoy the proceeds. Trouble is, she surely doesn't know the value of most of them and wouldn't know their fair market value. And it would make me turn over in my grave to have her sell one of my $45.00 chisels for 25¢ at a garage sale to some guy who would turn around and sell it for $2.00 at a swap meet.
Of course I'm sure someone will ask, "Why not pass the collection along to your children?" Neither of my grown children would be interested. Neither would any of my step-sons.
It has also occurred to me that another perhaps even better idea would be for her to donate the entire lot to some school or organization that would put it to good use training the future woodworkers of America.
I would love to hear from some of my fellow woodworkers out there about their ideas or suggestions for solving my problem. Thanks in advance.