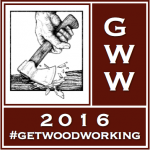 Open Invitation to Fellow Online Woodworkers —
Tom Iovino and I (Morton) are very excited to invite everyone to participate in this year's Get Woodworking Week.  It's a chance to promote our craft to the online community at large and encourage everyone to get some time in their shop, or create a shop!  The purpose of the week is to get people off their couches and into their shops to try their hand at woodworking or to pick up the craft again if it has been a while since they have tried it.
This year, Get Woodworking Week will be held from March 20-26.  We ask that you post your content during that week to have a nice coordinated effort online.

So, what are we looking for? Here are some suggestions:
Stories and posts about getting people into your shop (kids are always great).
Stories and posts about how you got started in the craft.
Cool techniques that a beginner should learn
Information about smart (or dumb) tool choices you have made through the years
Projects that can be completed with a beginner's tool kit
What essential tools do you use all the time
Why it's OK to make mistakes
Explain a complicated topic so the average Joe/Jo could understand
How to shop for wood
How to build a useful shop appliance/jig (Table Saw crosscut sled, work support, etc.)
You can check out some of the awesome entries from years past here: http://tomsworkbench.com/get-woodworking/  We're excited for Highland Woodworking to once again be a part of this effort.
If you do write a post, create a video or do something for the event, Tom and I would appreciate two things:
Please e-mail me the link of what you plan to write or what you end up posting when you do it. This way, we can promote each other's content.
Please use the 2016 imagery (here, here, here and here) for Get Woodworking Week on your posts. This way, we can brand the effort accordingly.
For any social postings, let's use: #getwoodworking
Any questions, comments, concerns or ideas – please let me know.
Thank you for considering participating in this years event.  Get Woodworking Week has been a real treat for new and old woodworkers over the years, and we're very excited to see it continuing this year!
Morton and Tom