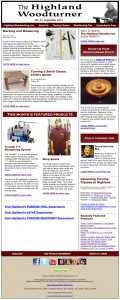 Our most recent issue of The Highland Woodturner is now available for reading!
This month's issue includes:
Marking and Measuring– The majority of Curtis's current Windsor Tool project consists of turning several different matching parts that require accurate measurements in order to fit together. In this article, Curtis discusses different measuring tools he uses in order to get these accurate measurements.
Turning a Small Classic Child's Bench– Temple Blackwood has been making small child benches for most of his turning career and in this project article he discusses how he makes them.
Show Us Your Woodturning– This month we're sharing the woodturning projects of Scott Fruchter and his grandson, Cameron, who learned how to turn from his grandfather.
Phil's Turning Tip– Phil has a turning tip on rounding the outside of the rim on your turning projects, which will help prevent cracking.
All of this and more in our September 2015 issue of The Highland Woodturner.