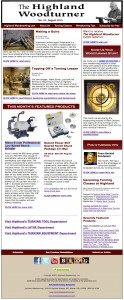 This month we've got a great issue of The Highland Woodturner, our online newsletter dedicated exclusively to turning.
Our August 2015 issue includes:
Making a Guiro– A Guiro is a Latin-American percussion instrument turned out of a hollow gourd and played with a stick or tines. In this article, Curtis Turner discusses the selection process for the wood, turning the beads, making the handle, and cutting the slot that helps produce the recognized sound of the Guiro.
Topping off a Turning Lesson– Our newest blogger, Mollie Simon, just took Hal Simmons' Beginning Turning class at Highland, and she has a full report of what she learned in the class and how it is a great class for beginning woodturners!
Show Us Your Woodturning– This month we are featuring the beautiful woodturning projects from by Eldon DeHaan, who makes one-of-a-kind pieces that start off on the lathe and are then embellished, carved, and colored.
Phil's Turning Tip- Phil has a tip on the benefits of using Foam-Backed Sandpaper.
Our featured turning tools this month include:
The Rikon 8 inch Professional Low Speed Bench Grinder
The Record Power SC3 Geared Scroll Chuck Package
All of this and more in our August 2015 issue of The Highland Woodturner.