EDITOR'S NOTE: We would like to introduce our newest blogger/store reporter, Mollie Simon, a Journalism major at The University of Georgia who has recently begun pursuing her interest in woodworking.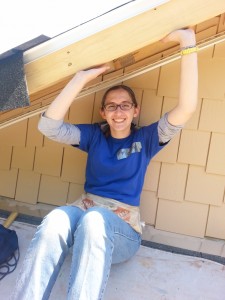 If I were to describe my current woodworking skill-level, I would put it about a half step below symmetrical bird feeder construction and a half step above IKEA shelving assembly. As a sophomore journalism student at the University of Georgia, I tend to build ideas with words more often than with hammers and nails.
Despite that, I am a tinkerer at heart, and am eager to learn my way around a wood shop and figure out how to craft new projects. My dream is to become a journalist and someday own a farm, a bakery, or a bed & breakfast (or maybe a combination!), so I know that the ability to work with wood tools will be handy.
Usually, I spend my free time bent over my sewing and felting machines, seam-ripping my way through fabric and designing zipper-laden bags. I have probably made enough hats, scarves, skirts, quilts and other miscellaneous items that you could stack them up to make a solid set of chairs; but, if you gave me the wood and tools to make a real chair right now… well, you might be sitting on the ground for a while.
Hopefully though, I will soon be graduating from IKEA assembly to bigger, better, and more solidly crafted things as this Saturday, I will be taking my first class at Highland Woodworking. I am excited to have the opportunity to blog about the class, Beginning Turning with Hal Simmons, and share it with my fellow novice woodworking fans through Wood News and The Highland Woodturner.
Having grown up in Atlanta, I remember passing Highland Woodworking many times and am hoping to now combine my interest in woodworking with my love for words by writing about events at Highland and also writing about different classes.
With this first class, my goals are pretty simple: get to know the lathe and progress from mitered corners to learning how curved wooden items are crafted.
While I had the chance to take four years of engineering classes in high school, I never did a great job of working on independent projects at home and moving from merely piecing wood together to piecing it together with style. I got to learn my way around AutoCAD and befriend the miter saw, table saw and bandsaw, but there were endless hand tools and machines I never touched. Fortunately, it is never too late to change that.
What has always drawn me to sewing is what also inspires me about the art of woodworking: the ability to create something new and tangible at the end of a day's work. I am looking forward to sharing what I can turn out in a day this Saturday!
CLICK HERE to read Mollie's blog about the actual class.