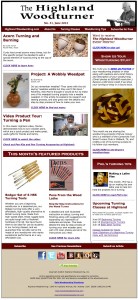 If you're in need of some turning project ideas, look no further than this month's issue of The Highland Woodturner, which is full of a variety of projects for turners of all levels.
This month's issue includes:
Acorn Turning and Burning: Acorns are a quick and easy turning project, but what makes this specific project unique is the wood burning techniques that Curtis has incorporated. Check out these beautiful acorns and make some of your own!
Project: A Wobbly Weedpot: Weedpots are a popular first turning project, but Rick Morris takes it to another level and adds a weeble concept to the project. Weebles were popular toys from the 1970's with the famous catchphrase "Weebles wobble, but they don't fall down." Rick includes step by step turning directions so you can make your own!
Pen Turning Video Tutorial: We've brought back our popular pen turning video with Morton, who gives you the step-by-step video directions of turning beautiful wooden pens.
Show Us Your Woodturning: This month we're showing the woodturnings of Bruce Hoover, who has turned a variety of projects including urns, bowls, platters, and more.
All of this and more in our June 2015 issue of The Highland Woodturner.