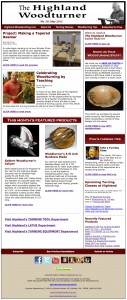 We've hit a milestone with The Highland Woodturner: 50 issues!
This month's 50th issue focuses on the educational aspect of woodturning with several authors sharing their love of teaching.
This month's issue includes:
Making a Tapered Reamer– Curtis Turner has begun the journey toward making his own Windsor Chair and to start, he has made his own tapered reamer. In this article he discusses the different steps he took to create this project.
Celebrating Woodturning by Teaching– Temple Blackwood celebrates our 50th issue by sharing his love of teaching. He discusses his teaching process for a first time woodturner and the process of turning a ceremonial gavel.
Show Us Your Woodturning– This month we are sharing the beautifully turned bowls created by Jeff Greenberg. On many of his bowls Jeff incorporates beautiful inlay designs and colors.
Phil's Turning Tip– This month Phil's tip is to take a turning class, whether it be at Highland Woodworking, John Campbell Folk School, or get some instruction from your local woodturning guild.
All of this and more in our 50th issue of The Highland Woodturner!