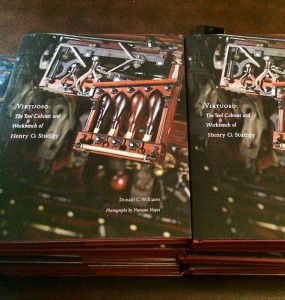 In honor of the recent publication of Virtuoso -The Tool Cabinet and Workbench of Henry O. Studley, an in-depth examination of one of the most beautiful woodworking tool chests ever constructed, we are having  a contest!
For your chance to win a FREE copy of this highly in-demand publication, all you have to do is submit a photo of your own "tool organization system" with a brief description. Now, we understand that not everybody has a tool chest like Studley, or maybe you don't even have an actual tool chest and that's okay! For the purposes of this contest, we want you to submit a photo of how you organize your tools. Whether it is in a tool chest like Studley's, a tool box, a cabinet drawer, your mother's heirloom dresser, or a plastic storage box, we want to see it!
The winner will be chosen by our resident blogger, Terry Chapman, so if you need to find ways to impress him, feel free to read any of his past blogs to find out his likes and dislikes.
You can either post your photos as comments on this blog entry, or email them to email@highlandwoodworking.com
Contest ends on May 31st, 2015 at 11:59pm EDT. Let us know if you have any questions and GOOD LUCK!