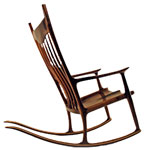 If you aren't familiar with The Wood Whisperer Guild, now is a pretty good time to find out about it. Our friend, Marc Spagnuolo (The Wood Whisperer), has been passionate about teaching woodworking for over a decade and with modern day technology, he has found a way to spread his teaching expertise through the Guild.
Next month's upcoming Guild Build is the Sculpted Rocker, a project designed by Charles Brock of The Highland Woodworker. This is a project near and dear to Highland Woodworking and we've got all the tools you need to make this project with The Wood Whisperer Guild.
Through The Wood Whisperer Guild, Marc will provide hours of detailed video instruction to building this project. While you are building, you will be able to connect with all of the other woodworkers that are working on the project at the same time as you.
Now get building!