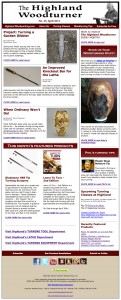 Happy Spring! We've got a great project-filled April 2015 issue of The Highland Woodturner.
This month's issue includes:
Turning a Garden Dibbler– In this article, Curtis discusses his process for turning a Garden Dibbler, which is used for making perfect holes in the soil to plant seedlings. This makes a great spring project and can be used by kids of all ages!
An Improved Knockout Bar for the Lathe– A knockout bar is a very important accessory for your lathe and in this article, Rick Morris discusses how you can make your own. This design specifically incorporates a slide-hammer into the handle and a brass tip on the striking end for easy and effective use.
When Ordinary Won't Do– Terry Chapman recently connected with Clark McMullen, a woodturner who makes a living out of turning urns. But his urns are no ordinary urns and they incorporate a variety of design elements that "turn" them into beautiful pieces of art.
Show Us Your Woodturning– This month we are featuring several bowls turned by John F. Hayes Jr, who enjoys using "gnarly" wood that adds a unique design to each of his bowls.
Phil's Tip– Phil's April tip is a great one for those who have found it hard to keep their turning wood from drying too quickly while turning over the course of a few days.
All of these stories plus some great product deals and discounts in our April 2015 issue of The Highland Woodturner.