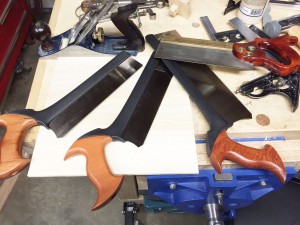 A few months ago I received a nice commission on a couple pieces of furniture and decided I would do something I had never done before. I decided I would by myself three new dovetail or tenon saws. I have always bought used saws and reconditioned them to suit my task and purpose, but not this time. I began doing web and magazine research to determine which saws I would buy. While I had the money to buy a very expensive set of saws, something was keeping me from placing the order until I came across a blog somewhere that pointed me toward the Veritas saws with molded spines.
I looked them up and was I surprised by what I saw! These saws didn't look anything like the ones I have in my saw till. While some people have a problem looking beyond tradition when it comes to hand woodworking tools I am not one of those people. Don't get me wrong I love old tools, especially when they can be restored and put back to task. Here I was looking at the new saws and trying to decide if I liked what I saw and if what I saw would stand the test of time. Well there was only one way to find out. I ordered three of the Veritas saws:
Let me add at this point that the prices for these saws were all very reasonable and actually helped me take a chance on this different looking saw.
It took about a week for them to arrive. They came very well packaged and with great care instructions. After unpacking, I cleaned off the light oil coating left to protect them while stored. This was maybe the easiest cleanup of a new tool I have ever experienced. Now that they were cleaned up I took them to my shop and gave them a very thorough going over and test drive.
The fit and finish was very nice, but not over the top, great with very clean lines. The Bubinga handles felt really nice, however they were a bit lose on all three saws. This leads me to believe this was done on purpose. No problem a couple turns each couldn't solve, and then they were snug and secure. The way they are attached makes it a simple matter to make custom handles if one desires to do so. More on the handles: They fit my hand very well and are at an almost perfect angle to the blade for great comfort sawing as well as being able to saw accurately. I have pretty standard sized hands as I wear an XL Glove and the handles are perfect for me.
The balance of all three of the saws is excellent! While the spine is molded it is infused with metal and has some decent weight but not so much as to affect the saws balance. The finish on the blade of each was was consistent and very well done. I have not noticed any flex in any of the saws that would indicate the molded-spine to be weak or inferior to metal backed saws.
Next, it was time to put them to task. I was making a few custom pieces from Hickory and felt this would be a good place to break them in. This brings me to a point that is quite important. As I began to put the saws to task they were not so smooth. I almost put them away for another day but decided to stay at it with them and it paid off. After a few hours all three saws settled down and became very smooth users. Thus be aware that they will need some break-in time.
To summarize this review: Now after a few months of almost daily use these three saws are top notch! I always reach for them first when a fine accurate saw is needed. Yes, I have some very expensive saws I have used for years and still use them along side these new generation saws. Will they stand the test of time? Only time will tell. So if you are in the market for a new dovetail/tenon saw these Veritas Saws just might be the way to go.
CLICK HERE to find out more information and purchase your own Veritas Saw.
Hello my name is Jim Chrisawn, I am a fourth generation woodworker and have been a woodworker for the past 40 plus years. During that time I have built everything from custom homes to custom furniture. I use a combination of machine and hand tool methods in my woodworking, however I lean more to the hand tool side of woodworking these days. Like a lot of other woodworkers I have accumulated a lot of tools over the years. According to my wife maybe a few to many, but that's a different subject.