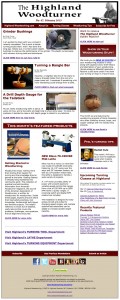 This month's issue of The Highland Woodturner has some great woodturning project ideas, tips, and brand new products!
Our February issue includes:
Grinder Bushings: Curtis shares his recent project idea of turning custom bushings out of plastic for his grinder.
Turning a Bangle Bar: Ray Bissonette shares his project idea of turning a wooden jewelry holder for bracelet bangles, which he was inspired to turn after seeing one made out of a paper towel roll.
A Drill Depth Gauge for the Tailstock: Rick Morris discusses his process of creating a drill depth gauge to attach to his tailstock.
Show Us Your Woodturning: This month we're sharing the beautiful woodturning projects turned by Denis Ciesielski, who often incorporates bronze, brass, or copper castings into his turnings.
Phil's Tip: Phil has a tip on how he utilizes a discarded sheetrock bucket to make his wood cuts in his driveway.
We are also featuring 2 new woodturning products that we are now selling at Highland Woodworking:
The Rikon 70-220VSR 12-1/2 inch Midi Lathe: Rikon has hit a home run with their new model 70-220VSR midi-lathe. Featuring 12-1/2″ swing over the ways and 20″ between centers, as well as a 24-position index head, this lathe is designed to handle a wide variety of projects.
Getting Started in Woodturning: This new title from The American Association of Woodturners is all about getting started in woodturning with tips and ideas from woodturners for woodturners.