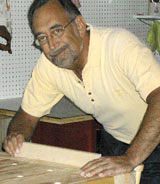 Each month in Wood News Online we feature Steve Johnson's column, The Down to Earth Woodworker, which is full of a variety of woodworking projects, tips, videos, and events.
In this month's column Steve has stories on the following topics:
The Tool Tune-Up Squad: You may have heard of The Geek Squad who can be called to come fix your tech gadgets. Steve's Tool Tune-Up Squad would work in a similar nature, a group of woodworkers who would hop into their Volkswagen van to come fix any of your broken tools or machinery. Steve shares his ideas and tips for this new business idea.
Building the New 5S Compliant Clamp Rack: Steve's new project is great for added shop storage and even falls under his 5S Compliancy. Steve walks you through the steps he took to create the clamp brackets and rack, and also shares the PDF's of his plans and video series that accompanies the project.
My Visit to Highland Woodworking: We were lucky to have Steve come and visit our store in Atlanta during our January Open House! Steve had never been to the actual store and in this column he shares his observations, experiences and expectations he had on his trip.