Ok Luddites, here is a new one for you and if you don't at least try it, you are missing out on something pretty good.
If you are like me, on these cold winter days when you don't want to walk to a freezing shop and wait for the heat to come up, you drop back to all the old magazines.  I have a big folder of clippings and torn out pages which I set aside for projects I intend to build one of these days.  If I see a good project, I rip the page out and throw away the rest of the magazine.   Who has room to store all the magazines, especially when you love the books even more and you have to have room to keep them too.
The folks at Highland suggested a few months ago that I investigate Pinterest, a web site which has gained a great deal of interest over the last few years.  Well, you know me, Mr Cool Know It All, Old Gray Headed Guy, I told them where they could put that "DIY" stuff and it probably was all about painting red barns and flowers on old circular saw blades and cutting plywood silhouettes of cowboys leaning against a fence post smoking a rolled cigarette.  For someone who really dislikes that kind of stuff and does not allow plywood in the shop, my perception of Pinterest was DIY crap, not the kind of stuff that Highland customers would want to see.  I was wrong.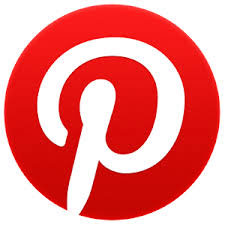 I was bored yesterday and needed something to keep my mind occupied, so I tried it out.  I went to www.pinterest.com and it took about 30 seconds to sign up and get started.  You start by creating boards (manila folders for you old people) with titles for things you like.  My first one was "Woodworking Stuff".  Basically, you type a subject in the search bar at the top and then look at all the things that pop up.  When you see something you like, you click on the "Pin It" button in the window (tear the page out of the magazine) and it adds it to your Board (Manila Folder).  The net result is you can end up with Boards which contain pictures and/or sites you like and want to remember for later.  You will find plans and pictures and videos and blogs and all kinds of good stuff.  You can spend hours on this thing.
Another way to add "pins" to your "boards" is by downloading the Pinterest Browser Button by clicking here. Once you have this button installed on your internet browser, you can go to any of your favorite websites (i.e. Highland Woodworking) and start pinning your favorite tools to your boards. Just scroll over the image of the product (or recipe) you want to pin, and the Pin It button will come up within the picture (see below):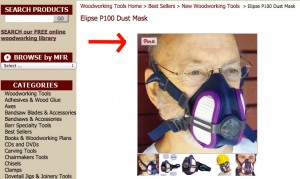 Once you click it, a box will come up that allows you to write a description of your pin (i.e. I really want this tool for Christmas! or The best tool I've ever used), and then click which of your boards you want to post it on: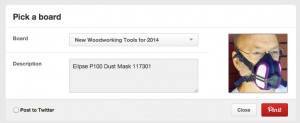 Click the red Pinit button and then voila, the picture and link to the page will show up on your Pinterest board!
You can even make a "Wishlist" board that you can share with your friends and family who are looking to buy you a gift!
I was clicking around this morning and I put in my hometown and all kinds of things popped up.  To show you the scope, I found the recipe for potato pie from the restaurant we all went to growing up in that small town.
I think as I search through for different topics that "Woodworking Stuff" is too broad a topic.  I will probably go back and set up separate boards for Woodcarving, Bench Plans, Windsor Chairs, Bowl Turning, Wood Lathes, and other more narrow topics.
I think you will really enjoy this thing.  Go to www.pinterest.com and sign up. You can follow my boards by clicking here and then click on the "Follow" link on the upper right-hand corner. While you're at it, be sure to follow the Highland Woodworking Pinterest page by clicking here.
Come on, people.  Time to move into the 21st Century, or at least the 20th Century.  You are going to like this thing.