A continuation of Adrian Burleigh 's Show Us Your Woodworking column from our December 2014 issue of Wood News Online.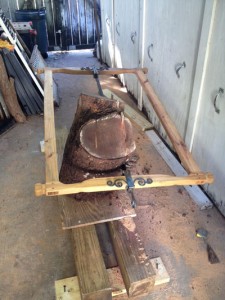 This endeavor all started when my neighbor decided to cut down his 80+ year old mahogany tree.
It was early one Saturday morning that I was roused from my morning cup of Joe, the growl of chainsaws breaking the serenity of the neighborhood. My neighbor, although well intentioned, decided that this was the day to make this "Specimen" tree into firewood. He was tired of the litter from the leaves, seed pods, and sap messing up the front of his house and adding to the cleaning chores of keeping his truck immaculate. I think deep down he was afraid of the tree and hurricanes making that tree into a monster.
My concerns for preserving this majestic wonder fell on defiant ears of my neighbor and his co-conspirator, who was also the provider of questionable timbering skills. I then asked just how they planned to tackle this formidable job of felling and bucking a 48 inch diameter hardwood giant. Their reply was "we are gonna cut it from the top down". Yea RIGHT? The canopy is only about 40 or 50 feet up there. I figured 911 was somewhere in the near future.
When I inquired if he had a permit to remove it from the right of way, his attitude quickly became brisk as I was now the "nosey neighbor" and very unwanted unless I decided to lend a hand in the crime.
After smoothing his feathers for a minute or two I reminded him that this tree survived numerous hurricanes even since "Andrew" in 1992 without much damage and that it sure would be a shame to lose the only good shade tree on the West side of his house. I also asked him how he was planning to remove the stump. It now was looking to be a somewhat more expensive addition to the unforeseen scope in his plan. I then gave him a conservative estimate as I am a retired building contractor, along with a quick mention of the possibility of being tagged by the local code enforcement officials, who are ever present in our fair county of South Dade Florida. Also a secondary mention to the stir that would be brought on by our Department of Environmental Resources Management (DERM). They would most certainly require mitigation if the required permits were to be issued. More cost and aggravation. He was also not aware that I have been the roadway inspector for a local Civil Engineering firm for the past ten years and that I regularly deal in this type of problem. I digress.
How things do get complicated. I then hinted that maybe he would be wiser to consider the size and cost of this enterprise. Noting it might be easier to just trim it a bit and love it a little more for its majestic beauty. Now that he was aware he owned a specimen mahogany tree of great value on his property, that won the debate. I even offered to haul off the heavy cuttings.
This is where the plot thickens, and turns into my next adventure in woodworking.
The smallest limbs trimmed from this behemoth were over 8" in diameter and the largest crotch sections were well over 20" in width. My little 14" band saw was out-sized for most of this timber. How was I to manage these logs of nice mahogany into workable boards? Portable saw mills are very scarce in South Florida. Not much interest yet in making use of the local urban tree fall. Although I may spark an interest if this article takes off.
My attempts to find a local sawyer to slice the beautiful crotch sections were futile, and slicing it with a large rented chainsaw was out of the question with too much waste in all respects. Besides the fact of not be able to afford the mobilization cost to have them come to me.
Conclusion, do it myself. In the way it was done before industrialization.
So I proceeded to make a large frame saw, the hand tool to get the job done. I got the idea from Adam Cherubini's Arts and Mysteries blog and the design from the Renaissance Woodworker. My saw is very much like theirs except just a little wider with some different shaping for the grip. The guide bar is made of white oak with yellow pine for the rest of the frame. Hardware was made by Artisan Iron Designs and the blade blank is from Blackburn Tools.
This one tool can be the answer to the complaint of many overweight woodworkers. One hour of working this beast a day will put the tone back into your saddle for sure. It takes some practice but with steady concentration and determination one can, alone, produce usable lumber from wild giants.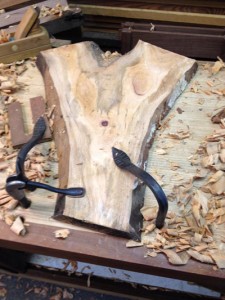 I was able to make a slice in a 30″ wide crotch section log that was about 36″ long in about an hour, and a couple beers later. Great workout all around – legs, shoulders, back, stomach and forearms.
I highly recommend it for anyone who really wants to get that special piece of timber and lose a few pounds quietly in one's own backyard.