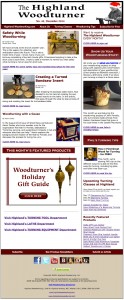 We've just released our December issue of The Highland Woodturner.
This month we've got some oldies but goodies including a popular tip from Phil Colson on how he is able to find FREE wood for his woodturning projects! We also included Aaron Cooley's Wood News article on his organization, We Ride to Provide, which turns wooden urns for fallen K-9 teams.
Curtis Turner discusses Safety While Woodturning, including the important use of Face Shields and how they can help protect you from a looming accident. He also gets a start to the New Year by suggesting some helpful New Years Resolutions for your woodturning practice.
Rick Morris is back with an article on Creating a Turned Bandsaw Table Insert after he accidentally busted his old insert when he didn't use a clamp on his bandsaw. He goes through the steps of turning your own insert and in the end you'll have a suitable replacement!
We've also got the beautiful wood turnings of John Perrella who turns bowls made entirely out of Eastern hardwood trees.
And for all you last minute holiday shoppers, we've got our updated 2014 Woodturner's Holiday Gift Guide!
All of this and more in our December 2014 issue of The Highland Woodturner!