Editors Note: This is a continuation of Temple Blackwood's article from the November 2014 issue of The Highland Woodturner, which you can read by CLICKING HERE.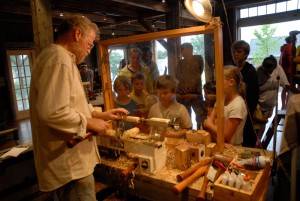 I encourage you to engage in doing regular demonstrations as part of your woodturning service to others, both organizations and individuals, because you will ultimately gain in skill, confidence, knowledge, and reputation. Selecting something like a belaying pin or mini-baseball bat challenges you as a woodturner, while bringing that delightful understanding and surprise to the children of all ages in your audience.
Begin by identifying your audience in age, safety, and experience level:
Children
Potential Students
Experts
Practical preparations:
Lathe, wood, tools, projects, time

Minimal tools, equipment, and turning blanks
Easy-to-mount, safe turning blanks
Sharpening vs multiple tools that are sharp

Travel, packing, setting up, taking down

Wheeled carts and tool-totes
Clean-up broom, dustpan and bag for chips and trash

Face-mask vs Goggles as potential essential obstacles

Your safety and protection
Your need to talk and be heard during the demonstration
Cautions
Be mindful of how much time you have
Be mindful of how much time your project will take
Be prepared to give away incomplete pieces
Be prepared and practice for failure/breakage/accident
Anticipate questions and be prepared to stop and answer them
Critical P's
Plan
Practice in advance
Prepare "before" and "after" samples
Present demo items to a devoted audience member
Other Considerations
Noise (yours and others competing in the same area)
Dust and chips (yours and others competing in the same area)
Splatter management (moisture from wet wood and excess finish)
Lighting
Workbench or table
Time
Clean-up and leave the area cleaner than you found it
Why do these demonstrations?
Share the passion for working with your hands in wood
Offer others the gift of your knowledge and talent
Expand your own turning knowledge and experience
Welcome others into the community of the American Association of Woodturners (AAW), its regional clubs, and the many woodturning resources for tools, supplies and lessons