That Steven Johnson just won't leave me alone.  I'm thinking of blocking his email address. He just won't stop bugging me about the Festool cord-and-hose boom arm. I'm hoping for one of two outcomes. Either he sees I'm happy with this month's tip to solve the problem or alternatively, maybe he thinks I'm just fooling myself and he will take pity on me and just send me one. Prepaid, that is.  Of course, he said he's going to send me some of his "gently-used" washers, too, but I'm still waiting.
So, what are the chances he'll be sending me a boom arm that costs $365.00? Well, OK, I'll give you that it goes everywhere your CT dust extractor goes, which means there's no disconnecting and moving, as there is with my bungee cord. And, it's always set up and ready to use. Oh, yeah, and there's no hunting for the end of the hose or the cord.  Y'know what? Maybe that Steve Johnson is onto something. Where's my Highland Woodworking order form? Until we can get a Festool boom, you and I can enjoy my bungee cord version below: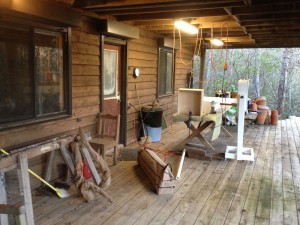 My cord management system started out with this succession of screw hooks installed in the ceiling joists for the purpose of hanging items to paint. By looping an extension cord from hook to hook it's easy to keep the cord above the work and out of the way, but easy to let out more cord when needed, too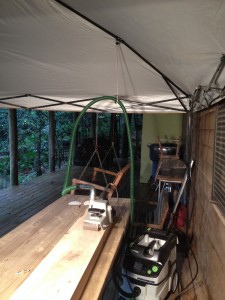 The next generation embraced cord management and dust extractor hose management, too. Some tools have long enough cords for the electricity to follow the elevated hose. The bungee cord provides flexibility as the sander moves from one end of the board the other.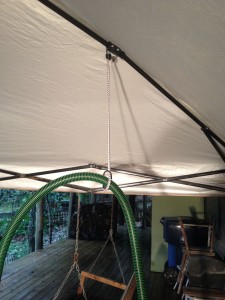 A closeup of the bungee cord attachment. A forecast probability of rain had me put up the "tent" so I could sand away without getting sanding dust all over the shop, but still not get rained on.
---
Jim Randolph is a veterinarian in Long Beach, Mississippi. His earlier careers as lawn mower, dairy farmer, automobile mechanic, microwave communications electronics instructor and journeyman carpenter all influence his approach to woodworking. His favorite projects are furniture built for his wife, Brenda, and for their children and grandchildren. His and Brenda's home, nicknamed Sticks-In-The-Mud, is built on pilings (sticks) near the wetlands (mud) on a bayou off Jourdan River. His shop is in the lower level of their home. Questions and comments on woodworking may be written below in the comments section. Questions about pet care should be directed to his blog on pet care, www.MyPetsDoctor.com. We regret that, because of high volume, not all inquiries can be answered personally.