In the most recent issue of The Highland Woodturner, I gave the step-by-step instruction of turning a wooden snowman ornament. In Part 2 you can find out how to turn a wooden bell ornament here on the Highland Woodworking blog. Finally, here in Part 3 I will turn a wooden Christmas tree light as seen below.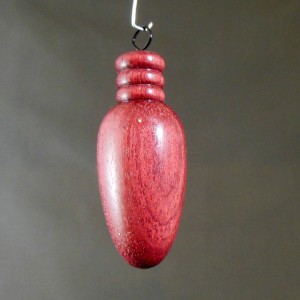 Making the light bulb ornament follows the same steps as the two earlier ornaments: mount the blank, use the template to lay out the parts, mark off those lines with a parting tool, and start shaping the bulb. See Figures 1 through 4 below.
I've found the skew is quite useful in the small curve at the top of the bulb (Figure 5). Once the bulb is shaped to your satisfaction, use a parting tool to waste away material on the socket area.
If you have a fluted parting tool (Figure 8), it is excellent for cutting small beads that simulate the threads of the bulb's screw connector. If you don't have one, a skew can be used to cut sharp threads with a V-cut, or a small gouge can be used.
Finally part off the ornament (Figure 12). I've drilled the hanger holes on the drill press for the bulb ornaments, as discussed above, so with a drop of glue, the hanger can be screwed in place. (Figure 13)
The Christmas tree light bulb ornament is finished!
CLICK HERE to return to the October 2014 issue of The Highland Woodturner.