It's likely on your checklist right alongside tuning up the snow blower, draining the gas from the lawnmower, and getting the winter togs out of the closet. And if stocking up on wood is not on your list, it should be.
Fall is a great time to buy lumber for all your upcoming wintertime projects. It is clearly a more pleasant time of year to haul wood, plus any wood you buy now will have time to acclimate to your shop. Right now there may be another very good reason to "stock up."
Erasmus said, "When I have a little money I buy books… and if I have any left I buy food and clothes." Substitute "wood" for "books" and this describes me exactly. Last week I made the first of what will be several trips to my supplier to stock up for winter. On the long drive, I tuned in to an all news station and listened, again, to rosy reports on the economy, a surging stock market, still-lower unemployment numbers, and no inflation. I was emotionally uplifted by the time I arrived, but my delusions were summarily dashed when I realized that lumber prices had shot up since my last visit.
Knowing a bit about supply and demand, and processing the bits of "news" I heard on my drive, I surmised that lumber prices were up due to high demand. "You're kidding, right?" was the reaction from my trusted wood source. He explained…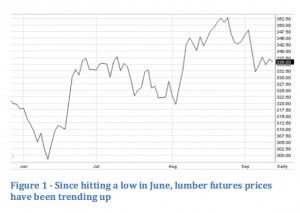 "The economy is so bad. No one is building houses around here so there is no demand for high-grade hardwoods for cabinets, fireplace mantels, trim, or anything else. As a result, the price people are paying for timber is so low that everyone has quit selling their trees. No timber, no lumber, and that translates to shortages. Short supply means rising prices."
Okay, the rules of supply and demand are safe, but the premise under which I was operating was all wrong. There is a shortage of lumber, but not because the demand is high; it is because people who own stands of timber are holding off selling their trees until prices go up… at least around here.
One thing I learned from moving around the country is that all lumber pricing, like all politics, is local. Where you live the economy may be better, and perhaps a surge in construction is driving hardwood lumber prices higher. Whatever the reasons, the consensus (and futures contracts) agree, lumber prices are going up. As we all get ready for a winter of shop time and furniture building, now might be a good time to stock up on the one thing we all need for woodworking… more wood!
---
Steven Johnson is retired from an almost 30-year career selling medical equipment and supplies, and now enjoys improving his shop, his skills, and his designs on a full time basis (although he says home improvement projects and furniture building have been hobbies for most of his adult life).
Steven can be reached directly via email at downtoearthwoodworks@me.com.