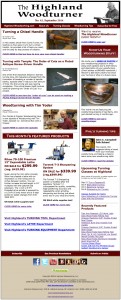 Hey woodturners, we've got a new issue of The Highland Woodturner for you to read!
First up we've got a classic article from Curtis Turner on turning your own chisel handles. You can even make a whole set of them and always know which chisels are yours!
Temple Blackwood explains "The Order of Cuts," which is a method of planning out the steps of your project. He applies this method to the creation of a Fluted Antique Screw-Driver Handle.
Every month we have been featuring an episode of Popular Woodworking's new show Woodturning with Tim Yoder, and this month he has an episode on turning a Cylindrical Box with a Drawer.
Our Show Us Your Woodturning artist this month is Jay Barry, who has only been turning for 4 months and already has some beautiful bowls on display!
Phil has a turning tip on changing up your everyday woodturning by attending a class or folk school and learn some new skills!
All of this and more in our September 2014 issue of The Highland Woodturner.