Welcome to "Tips From Sticks-In-The-Mud Woodshop." I am a hobbyist, not a professional, someone who loves woodworking, just like you do. I have found some better ways to accomplish tasks in the workshop and look forward to sharing those with you each month, as well as hearing your problem-solving ideas.
Tip #1
Some jobs are big enough to set up dust collection on the drill press. Others just don't take long enough or make a big enough mess to justify the time for all that setup.  Still, if you want to catch the mess and minimize the time for cleanup, a 5-gallon bucket or small trash can under the center of the drill press will catch the bulk of your chips and the bigmouthed garbage can next to the drill press will give you a quick and easy place to sweep flying chips from the drill press' stage. When I do want to use dust collection on the drill press, this is the way I usually do it.
I have a couple of "extra" drops to our dust collector, 4″ each, and they can be used for whatever portable machine they're needed for.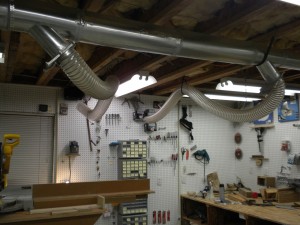 When I was designing this system, with the help of Oneida, I didn't have a specific plan for these two connections, but figured if I never used them I could always keep the blast gates closed and there wouldn't be much cost, especially compared to cutting into the line and trying to insert a connection later.  They have proven to be invaluable and they can be used for whatever portable machine they're needed for.  Roll the router table up, pull down the flexible hose and hook 'er up.
Ditto for the oscillating spindle sander below, which can accept a Shop Vac, the Festool Dust Extractor or, with this adaptor, the full force of the dust collector. These two unassigned drops have really come in handy.
Tip #2
No Southern-fried Southern boy wants to be called a Yankee, but we share the characteristics of shrewdness and thrift.  Thus, each month we include a money-saving tip.  It's OK if you call me "cheap." 
Never pay for buckets.
Instead, keep your eyes open as you drive around.  Buckets fall from vehicles all the time and you need only find a safe place to pull over and fetch the free bucket.  And, remember what Mama always said, "Look both ways before crossing the street."
---
Jim Randolph is a veterinarian in Long Beach, Mississippi. His earlier careers as lawn mower, dairy farmer, automobile mechanic, microwave communications electronics instructor and journeyman carpenter all influence his approach to woodworking. His favorite projects are furniture built for his wife, Brenda, and for their children and grandchildren. His and Brenda's home, nicknamed Sticks-In-The-Mud, is built on pilings (sticks) near the wetlands (mud) on a bayou off Jourdan River. His shop is in the lower level of their home. Questions and comments on woodworking may be written below in the comments section. Questions about pet care should be directed to his blog on pet care, www.MyPetsDoctor.com. We regret that, because of high volume, not all inquiries can be answered personally.