If you have been woodworking for a while, there is a good chance you have seen or even built a rendition of Norm Abram's Miter saw station. I built my version several years ago and as the years have passed, I have made several changes to it to meet my shop needs. My most recent change was to the area behind the miter saw fence. That area has become a drop zone for clutter. I seem always to be losing project pieces and small tools directly behind the fence where it is out of my sight. Even worse, the pile of scrap wood and miscellaneous supplies stack up and spill onto the fence getting in the way, preventing my miter saw's stop block from sliding down the fence and making it unusable.
Honestly, I could probably throw half of the scrap wood away to clean up the mess, and not miss it. However, there seems to be an unspoken rule among woodworkers to never throw away scrap wood, so if I did I'm afraid I would have to turn in my woodworker's card. To clean this mess up and take back that valuable shop space, I decided to build storage bins directly behind the fence.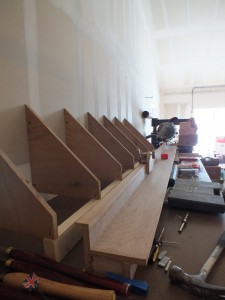 In addition to cleaning up the mess, I found a use for some of the scrap wood in the pile and used it to build the bins. I started by screwing down a 2×4 to the workbench behind the fence. I paid special attention to be sure I left a space for the miter saw's stop block to slide past, and a comfortable amount of room for my hand to reach back to clamp it to the fence. The 2×4 will provide a solid surface to screw my dividers to as well as a stop to prevent the wood in the bins from sliding against the fence causing the same problems as before.
To make the dividers, I cut some scrap plywood into triangles and attached them to the wall as well as to the 2×4 using pocket screws. My shop walls are made from structural panels so I can put a screw anywhere. If you are in a traditionally framed shop be sure to find studs in the wall for the screws to get a good strong bite. The studs being spaced 16 inches apart will make for a nice sized bin and help keep them evenly spaced out.
Now that the bins are complete, I sorted out my pile of scrap wood by size and species. It keeps it all visible and at my fingertips, ready to be incorporated into a project. The bins are also helping me stay organized as well. As I am cutting the lumber down to size, I can easily sort the cutoffs into the scrap bin as I go.