Have you read the new issue of The Highland Woodturner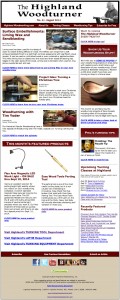 yet?
Our August issue contains several great articles, projects, and tips that can be used in the woodturning realm.
This month, Curtis Turner focuses on the use of Liming Wax and Sandblasting to help embellish and enhance the surfaces of your turned projects. He goes over the process of sandblasting and alternative methods, and also gives some good tips on using liming wax and how to use it safely.
Rick Morris gets a start on turning for the holidays and gives a step-by-step outline of Turning a Christmas Tree. He lets you know the tools and materials you need, as well as multiple pictures of the creation process.
Natural Edge turning offers a different look to your turned projects and this month's 'Show Us Your Woodturning' contributor, Gene Russell, shows off his beautiful natural edge bowls.
Phil Colson offers a tip involving the finishing of your turning by letting you know what to do if you have a broken nozzle on your can of finish. Check out the Nozzle Tip.
And don't forget to check out Popular Woodworking's Woodturning with Tim Yoder with a special episode on Turning a String Top Toy.
All of this and more in our August issue of The Highland Woodturner!