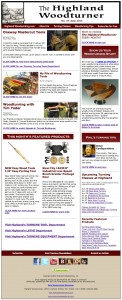 Take a look at our June issue of The Highland Woodturner full of some great reviews and deals of woodturning tools.
In this month's issue:
Oneway Mastercut Tools: Curtis Turner recently bought and tested some Oneway Mastercut tools. In this month's article he reviews the three different tools he got, including: 1) 17 1?2″ Sure Grip Handle, 2) Mastercut 1/2″ Double-Ended Spindle Gouge, and 3) Mastercut 5/8″ Double-Ended Bowl Gouge.
My Pile of Woodturning Tools: In this classic Terry Chapman blog article, Terry shows off his "pile" of 22 different woodturning tools and gives some tips for the best ones for beginners to use.
Show Us Your Woodturning: This month we have the beautiful woodturnings created by Robert Wallace from Ames, Iowa. Robert began woodturning when he needed a "quieter" way to do woodworking when his daughter was born.
Woodturning with Tim Yoder, Episode 6: Turning Birdhouses: In Episode 6 of this Popular Woodworking sponsored web TV show, Tim has some spare wood around his house that he decides to turn into birdhouses.
Phil's Tip-Drive Configurations: Phil is looking for a way to put almost any configuration onto the drive, and with this month's tip he figures out how.
This month's featured products include:
NEW- Easy Wood Tools 1/8 inch Easy Parting Tool
Package Deal- Steel City 15430 8″ Industrial Low-Speed Bench Grinder
All of this and more in this month's issue of The Highland Woodturner!