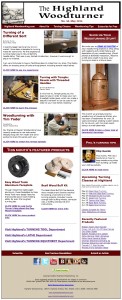 Our May 2014 issue of The Highland Woodturner has just been published with a great new feature from Popular Woodworking!
This month's issue includes:
Turning of a Different Sort, by Curtis Turner: Curtis recently got into metal turning and explains the features and differences of metal turning lathes vs. regular wood turning lathes, as well as how he made his first project, a refrigerator magnet!
Gavels with Threaded Handles, by Temple Blackwood: Temple gives us a new project idea and the how-to of making a judge's gavel with a threaded handle, a must-have for your next family meeting!
Show Us Your Woodturning, by Lawrence Wroten: This month we chose the woodturnings of Lawrence Wroten to display in our monthly 'Show Us' column. Lawrence creates a lot of projects for his church, including a beautiful wooden tabernacle.
Phil's Turning Tips, by Phil Colson: This month, Phil has a tip on how to keep the inevitable wood chips and scraps from landing in your shorts pockets.
And a special feature from Popular Woodworking: Woodturning with Tim Yoder, a new online web series featuring woodturning lessons and projects. Check out their bi-weekly episodes!
And lastly we have our monthly featured products, which include the Easy Woods Tool Aluminum Faceplate and the Beall Wood Buff Kit.