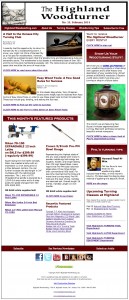 This month we have another great issue of The Highland Woodturner, our online publication dedicated solely to woodturning. If you aren't currently subscribed to The Highland Woodturner, you can easily do so HERE, and you will only receive our monthly publication, no sale gimmicks or anything else!
Issue #35 includes:
A Visit to the Kansas City Turning Club: This month Curtis shares his recent visit to the Kansas City Woodturners, and the fun and welcoming experience he had. Curtis gives us a brief tour of the club headquarters, and shows us pictures of the wooden tobacco pipe he saw being turned while he was there.
Easy Wood Tools: A Few Good Rules for Success: In this classic blog entry our frequent blog contributor, Terry Chapman, gives us a review of several Easy Wood Tools, a great line of turning tools that help make woodturning easier!
Show Us Your Woodturning: February features the segmented woodturning of Paul Bucca, who created an elaborate segmented bowl made up of 685 different pieces. The bowl depicts a variety of animals, all made out of naturally colored woods.
Phil's Woodturning Tip: This month Phil has a tip on using Howard Feed-n-Wax and how it can bring back the luster to your woodturning projects.
All of this and more in our February issue of The Highland Woodturner!