Today, we're giving you not one, but TWO Follow Friday's! Every month we feature several woodworkers within our online publications, Wood News Online and The Highland Woodworker, where they each have a column devoted to a woodworking specialty. These specialties include Shop Design, Woodworking, Carving, and Turning. Want us to showcase your own shop or projects? Check out the end of this column to see how you can submit to our newsletters!
For February 2014 we are featuring the following woodworkers: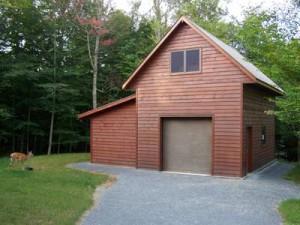 Show Us Your Shop: Jim Brown has a beautiful woodsy shop in Old Forge, NY, where he sometimes has wildlife visitors while working (see the deer in the photo on the left?). Some unique characteristics of Jim's shop include:
Plywood walls to allow easy installation of shelves and hangars.
A Sawstop Cabinet Saw (which makes him feel much safer when ripping stock).
10 foot high ceilings, which allow easy swinging and handling of long boards.
Shelves with angled fronts that allow easy clamp storage and which also keep items from falling.
A self-fashioned system to easily move his non-mobile lathe.
A sturdy, fold-down set of stairs that can be lifted with just one finger.
 An attic used for wood storage.
To find out more about Jim's shop and to view pictures of some of his mechanisms, CLICK HERE.
Show Us Your Woodworking: Mike Stafford has been fascinated with woodworking for much of his life, and is now at a point in life where he gets to do it as an everyday hobby! Mike and his wife, Kathie, built their kitchen together after Kathie created the design and Mike did the actual construction. After the kitchen, they decided to redo their bedroom furniture including nightstands and dressers, made of a variety of woods, finishes, and hardware. Most recently, they designed a 3-part Credenza to store all of their old movies in their living room.
To find out more about the wood, hardware, and techniques that Mike used on his bedroom and living room furniture projects, CLICK HERE to go to the article!
Stay tuned next Friday, when we feature our Carving and Turning columnists for February!
Fridays on the Highland Woodworking Blog are dedicated to #FollowFriday, where we use this space to further highlight a woodworker or turner who we have featured in our monthly e-publications Wood News and The Highland Woodturner. Would you like for your shop or woodworking to appear in our publications? We invite you to SEND US PHOTOS of your shop or work along with captions and a brief history and description of your woodworking (Email photos at 800×600 resolution.) Receive a $50 store credit redeemable towards merchandise if we show your shop in a future issue.