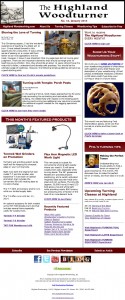 Check out our latest issue of The Highland Woodturner, Highland Woodworking's online magazine dedicated to just woodturning. This month we have a few highlighted articles including:
Sharing the Love of Turning: Curtis Turner discusses how he has finally been able to teach his passion of woodturning to his oldest son. Within his article, he discusses methods of teaching younger children, as well as the process they used to make a beginning project.
Turning with Temple: Porch Posts: We have started featuring a bi-monthly column with Temple Blackwood, a turner located in Castine, ME. This month, Temple discusses his work on several porch posts that were used in the renovation of a nearby real estate office, and the process of turning these posts.
Show Us Your Woodturning: This month we featured the woodturning of Fred Warshofsky, who is able to combine the methods of turning and carving in order to create unique pieces of woodworking.
Phil's Tip: Making the Perfect Tenon: Phil Colson has a tip on how to set the jaws of your chuck in order to create a perfect tenon.
Get your virtual copy HERE today!