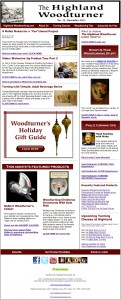 The November 2013 issue of The Highland Woodturner was released this week and has some great tips, articles, and tools all dedicated to woodturning. Highlights include:
-Curtis Turner's article A Mallet Makes for a "Fun"ctional Project, which gives a great overview on turning your own mallet. Whether you're a beginner or experienced turner, this project is an quick and easy gift idea.
-Curtis also continues his Video Product Tour of the Oneway Wolverine Jig. In Part 2 of his tour, Curtis goes over the multiple jig attachments including the Dressing Attachment, the Vari-Grind 2 Attachment, and the Skew Grinding Attachment.
-Our recent guest contributor, Temple Blackwood, continues showing off his impressive and dedicated woodturning with his Adult Beverage Series, featuring several different goblet and bottle assortments turned from wood.
-In our monthly Show Us Your Woodturning column we've got the turnings of Randal Weber, including his beautiful Spalted Maple Vase.
–Phil Colson's Monthly Turning Tip focuses on the Mirka Sanding Block, which has helped make his work easier, faster, and better.
-With the holidays coming up, we've got our Woodturner's Holiday Gift Guide, full of some great turning tools and accessories that you can add to your own wish list, or purchase for your favorite woodturner!
-This month's featured woodturning products include the Galbert Woodturner's Caliper, which is great for spindle turning. We've also got an excellent publication Woodturning Christmas Ornaments with Dale Nish, which includes ornament designs and step-by-step instructions.
All of this and more can be found in this month's issue HERE. Happy turning!