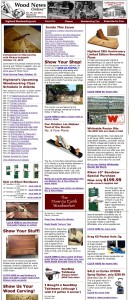 Come read your copy of our October 2013 issue of Wood News, filled with all kinds of shop and project ideas, as well as several deals and sale items sure to get you back into woodworking season!
This month's highlights include:
Woodworking Without a Shop: A new monthly column where we highlight woodworkers who manage to create beautiful pieces without the assistance of having a full shop or workspace at their disposal. In our first article of this column, we feature Anthony Ward, who has been building toy chests for his grandchildren without any major power tools.
Building a Dulcimer: A few months ago we featured Preston Woodruff in our September Show Us Your Woodcarving column, and this month we focused on his specialty of building dulcimers, which are beautiful stringed instruments that incorporate different shapes, ornamentation, and woods.
Show Us Your Shop: In this popular monthly column we are featuring the converted garage shop of James Kelley in Spring, TX.
As always we've got our wonderful Tips From Sticks-In-The-Mud Woodshop with some great repurposing tips, The Down to Earth Woodworker who shares his winter woodworking tips, a wonderful review of Jeff Miller's Foundations of Better Woodworking by J. Norman Reid, and some Finishing Tips from one of our class instructors, Alan Noel.
And lastly, we've got some great new products including a one-of-a-kind, Limited Edition Scott Meek Smoothing Plane that he manufactured in honor of Highland Woodworking's 35th Anniversary, as well as a whole line of Whiteside Router Bits, rated BEST OVERALL and BEST VALUE.
All of this plus much more in our 98th issue of Wood News Online.