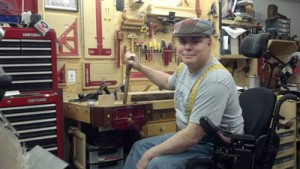 This weeks #FollowFriday is Stew Hagerty from Fort Wayne, IN. Stew was recently featured with his rocking horse project that he made for his granddaughter in the Show Us Your Stuff column in our August 2013 issue of Wood News.
Stew is a former General Contractor who got very sick 4 years ago with an unidentified bug that almost killed him! This led to more sickness and strange symptoms, which eventually got him diagnosed with Transverse Myelitis, a neurological disease that is a cousin to MS and causes lesions to form in the spinal column. The disease unfortunately left him wheelchair bound, but he quickly found the motivation to get back into woodworking and start building a wheelchair accessible workshop!
He described his shop with the following:
I had to build several cabinets, racks, and workstations, around the shop. I already had a very nice workbench that I inherited from my father-in-law that has a sturdy white oak frame and a 1-1/2 inch thick hard maple top, with both face and tail vices. I already had most of the power tools, although I did buy a Dewalt 735 planer and a Grizzly G0555X bandsaw. However, I did have to purchase quite a few hand tools, since the ones I already had were for construction rather than woodworking. I bought a full set of vintage Stanley Bailey planes from #3 through #8, a finer set of chisels than I had for construction, as well as quite a few precision measuring & marking instruments (I have a passion for Woodpeckers products). And, of course, I have continued to buy tools as I "need" them (wink wink). I like working by hand when I can, but I understand my limitations require a fair amount of power tool work as well. This workshop and my projects have really been a godsend for me.
You can see more of Stew's work on his Facebook page HERE.
———————————————————————————————————————————————————————————————–Fridays on the Highland Woodworking Blog are dedicated to #FollowFriday, where we use this space to further highlight a woodworker or turner who we have featured in our monthly e-publications Wood News and The Highland Woodturner. Would you like for your shop to appear in our publications? We invite you to SEND US PHOTOS of your woodworking shop along with captions and a brief history and description of your woodworking (Email photos at 800×600 resolution.) Receive a $50 store credit redeemable towards merchandise if we show your shop in a future issue.