Today's #FollowFriday is Roger Moore from Aiken, SC, whose shop we featured in our August 2013 issue of Wood News. Roger is a retired nuclear engineer who left engineering in 2003 and built an entirely new two-story workshop right after retirement. He put a lot of thought and detail into the structure and specifications of his shop, which you can read more about in his feature HERE.
Within his shop, Roger has created a variety of pieces and mostly focuses on building custom furniture, book cases, yard furniture, and cabinets.
One of Roger's more in depth projects has been his work with music stands, specifically the one below that he made for as a graduation gift for a student going to Graduate School.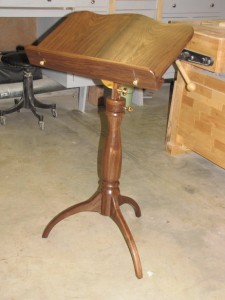 The stand is made of black walnut with brass hardware. The pedestal is made of a black walnut gunstock blank obtained from the Conasaga River Lumber Mill in the early 1970's. The remainder of the wood in this stand came from a black walnut log cut in Aiken, South Carolina that was cut 4 years ago. It was dried in the wood racks in my shop for over 3 years before it was made into the conductor stand.
Each of the three legs are cut from black walnut stock aligning them with the grain of the wood in a manner that gives them the most strength. They are affixed to the pedestal using a large sliding dovetail joint and reinforced with a handmade brass spider made in my shop. The brass tilting mechanism is of my own design and was hand cut from a piece of ammunition brass in my shop. The solid brass oval knobs are cabinet knobs that I drilled out and threaded for this application
The platform is constructed of two pieces of book matched black walnut and incorporates an adjustable lip to best suit preferences for turning pages, etc. It is affixed to the platform using a bread board joint to hold the platform flat and allow for expansion and contraction. It also incorporates a small nook on the underside of the platform to hold a baton.
To see more of Roger's work, visit his Lumberjocks website HERE.
———————————————————————————————————————————————————————————————–Fridays on the Highland Woodworking Blog are dedicated to #FollowFriday, where we use this space to further highlight a woodworker or turner who we have featured in our monthly e-publications Wood News and The Highland Woodturner. Would you like for your shop to appear in our publications? We invite you to SEND US PHOTOS of your woodworking shop along with captions and a brief history and description of your woodworking (Email photos at 800×600 resolution.) Receive a $50 store credit redeemable towards merchandise if we show your shop in a future issue.