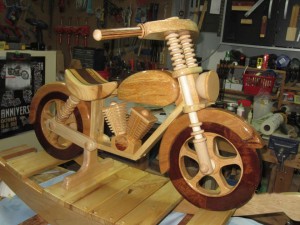 Today's #FollowFriday is Carl Lehman from Tecumseh, Ontario, who we featured in our Show Us Your Woodcarving section of our August 2013 issue of Wood News. Carl was a unique "Show Us" submission by submitting his story and photos through our Highland Woodworking Facebook Page.
Carl's most recent projects were the construction of 3 motorcycle rocking chairs, which he made for his grandchildren. He made each part of the bikes out of the following different types of wood:
Seats: Spalted Wood, which made them look like leather.
Chrome  and Tin Components: Light colored woods like Ash and Maple.
Handle Grips: Made with veneer wrapped around dowels and worked to imitate knurled grips.
Cover Plate for Transmission: Each bike was made with a different highly figured piece of wood that Carl had in the shop, which included Cherry Flame, Spalted Butternut, and Lacewood.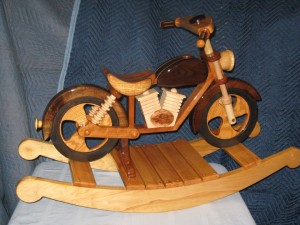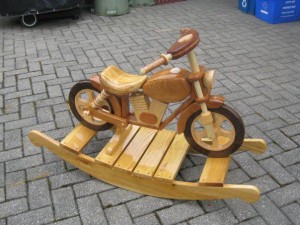 The first bike that Carl made was entered into a local wood carving competition, where he won First Place in two categories! He won both the Carousel Horse-Novice Category, as well as the People's Choice-Novice Category.
———————————————————————————————————————————————————————————————–Fridays on the Highland Woodworking Blog are dedicated to #FollowFriday, where we use this space to further highlight a woodworker or turner who we have featured in our monthly e-publications Wood News and The Highland Woodturner. Would you like for your shop or woodworking to appear in our publications? We invite you to SEND US PHOTOS  along with captions and a brief history and description of your shop or woodworking (Email photos at 800×600 resolution.) Receive a $50 store credit redeemable towards merchandise if we show your shop in a future issue.